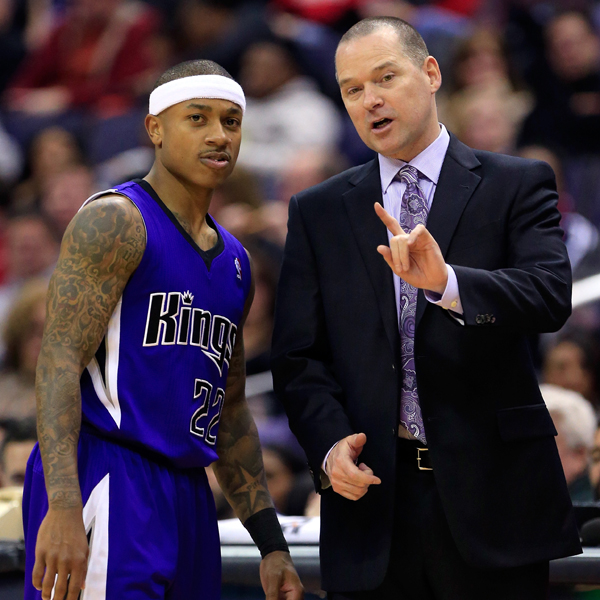 Talk with anyone who's worked with Michael Malone before and you'll likely hear them describe him the same way. Intelligent, hard-working and dedicated to his craft.
In the final two games of their east-coast road trip, the Sacramento Kings will visit the first two NBA stops of Malone's career, beginning tomorrow night with a visit to Cleveland.
Malone spent five playoff seasons with the Cavaliers, reaching the NBA Finals in 2007 and the Eastern Conference Finals in 2009. The Cavs also posted the league's best record in his final two seasons, winning a franchise-best 66 games in 2008-09 and 61 games in 2009-10.
Under the guidance of Mike Brown, Cleveland was where Malone got his first opportunity to shine. During his previous tenure in Cleveland, Brown gave Malone the freedom to at times direct the Cavs' offense and defense. Recognizing Malone's knowledge of the game and coaching potential, Brown gave his former assistant extra latitude because he wanted Malone to become a well-rounded coach.
"I'm a guy that (thinks) especially if a guy has shown that he's earned or that he's proved that he can handle those types of responsibilities, then hey, give it to him," Brown said of Malone in the Cavs' lone trip to Sacramento earlier this season. "Because I know I don't have an ego. And for me, it's just about winning however we can win and whoever can help.
"Mike, he earned the right to do a lot of things and had a strong voice on my staff in Cleveland," Brown added. "So him sitting in the seat that he's sitting doesn't surprise me at all."
Malone also played an integral role in the development of LeBron James. The defending NBA champion picked up two of his four regular season MVPs as a member of the Cavaliers while Malone was an assistant. The Miami Heat forward remembers Malone's fierce personality from their time together in Cleveland.
"I loved his intensity," James said with a grin and a laugh before the Heat fell to the Kings at Sleep Train Arena in December. "Both on the defensive end and he was our offensive coordinator at one point too in Cleveland. But, I always knew that he had a smart mind and could be a head coach in this league and it was only a matter of time."
Before his opportunity in Cleveland, Malone got his first NBA coaching gig in his hometown of New York City. The Kings wrap up their east coast swing with a visit to Malone's old stomping grounds of Madison Square Garden, where he worked four seasons under the likes of Jeff Van Gundy, Don Chaney, Herb Williams and hall of famer Lenny Wilkens.
Van Gundy originally plucked Malone out of the college ranks to join his staff as coaching associate with the New York Knicks. Charlotte Bobcats Head Coach Steve Clifford worked with Malone in New York and believes the Kings head coach's knack for the game can be credited to his upbringing.
"He grew up in a basketball household," Clifford said during the Bobcats' visit to Sacramento last month. "His dad (former Kings assistant Brendan Malone) was a great, great coach. Michael's a talented guy – very bright, hard working and he knows what it takes to win in this league."
Michael's father worked in the NBA for 27 years, including two stints with the Knicks. From 1997-2000, Brendan, like Michael, also worked for Van Gundy as an assistant on his staff.
Along with Brendan, Chicago Bulls head coach Tom Thibodeau was another member of Van Gundy's staff at the time. He remembers Michael visiting his father and soaking up the Knicks' atmosphere before joining Van Gundy's staff in 2001. Thibodeau also recalls how seriously the younger Malone, who at the time was just in his mid 20s, took to the art of coaching.
"I think Michael has prepared himself extremely well for this opportunity," Thibodeau said of Malone last week before the Bulls lost to the Kings in Sacramento. "I think he'll do a terrific job here. He's been around the game for a long time, around the pro game (and) around a lot of great coaches."
via www.cowbellkingdom.com by Jonathan Santiago