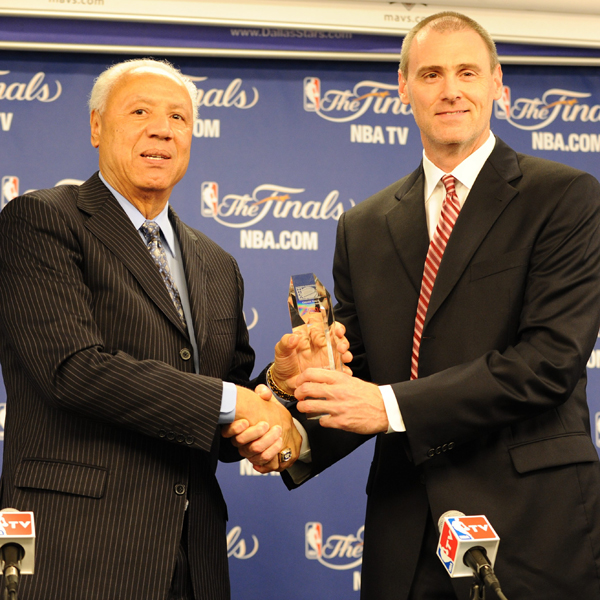 NEW YORK — Hall of Famer Lenny Wilkens is the recipient of the Association's "Chuck Daly Lifetime Achievement Award" for 2011, the National Basketball Coaches Association announced Sunday.
One of only three Hall of Famers enshrined as both player and coach, Wilkens ranks second all-time in wins and first in games coached. He is the only NBA legend listed among both the all-time Top 50 NBA players and the all-time Top-10 NBA Coaches.
"I'm deeply grateful to my NBA peers for honoring me with the Chuck Daly Lifetime Achievement Award," said Wilkens. "Chuck was a great coach, but more important a great friend and I'm thrilled to accept this award."
As a head coach, Wilkens coached the Seattle Super Sonics to their only NBA title in 1079, and led five different NBA teams to the playoffs. Utilizing a team-oriented philosophy, Wilkens had the unique talent of crafting championship contending clubs out of competent but unspectacular units. In 1994, he was named the NBA Coach of the Year with t he Atlanta Hawks. Wilkens also served as head coach of USA Basketball's Gold Medal winning Dream Team II at the 1996 Summer Olympics, after serving as an assistant coach on the fabled 1992 Gold Medal-winning Dream Team.
He is the only person inducted into the Basketball Hall of Fame on three separate occasions as a player (1989), coach (1998) and as a member of the 1991 Dream Team (2010).
Wilkens also served as the President of the national Basketball Coaches Association for a record 17 years. Under his leadership, the only coaches union in professional sports made great strides for all NBA head and assistant coaches.
Wilkens has mentored coaches worldwide, including consulting assignments for the Korean National Team in the 2010 Asian Games. He also co-produced the popular Wilkens Basketball Legacy Series — an instructional basketball DVD focusing on skill development for young players and coaches. With his commitment to community, Lenny founded the Lenny Wilkens Foundation, which supports children's heath care and education. The Wilkens family and foundation have raised well over $2 million for their primary charity of choice, the Odessa Brown Children's Clinic in Seattle as well as supporting various other charities.
Dallas Mavericks head coach and National Basketball Coaches Association President Rick Carlisle state: "Lenny Wilkens is a true leader, an example and mentor to all of us who coach the game. He's also a fine gentleman and a true NBA 'treasure.'"
The National Basketball Coaches Association Chuck Daly Lifetime Achievement Award commemorates the memory of Hall of Famer Chuck Daly, who during an outstanding NBA coaching career set a standard of integrity, competitive excellence and tireless promotion of basketball. This year's award recognized the special contributions Wilkens has made to the sport throughout his NBA career, building a body of work that has had a positive, lasting impact on the NBA coaching profession. Wilkens has personified the high standards and team leadership qualities that Coach Daly brought to the game.
The National Basketball Coaches Association Chuck Daley Lifetime Achievement Awards winner is selected by the Award Selection Committee comprised of a cross section of NBA "insiders," including Bernie Bickerstaff, Bully Cunningham, Mike Heisley, Phil Jackson, Gregg Popovich, Pat Riley, and Donnie Walsh.
via www.nba.com