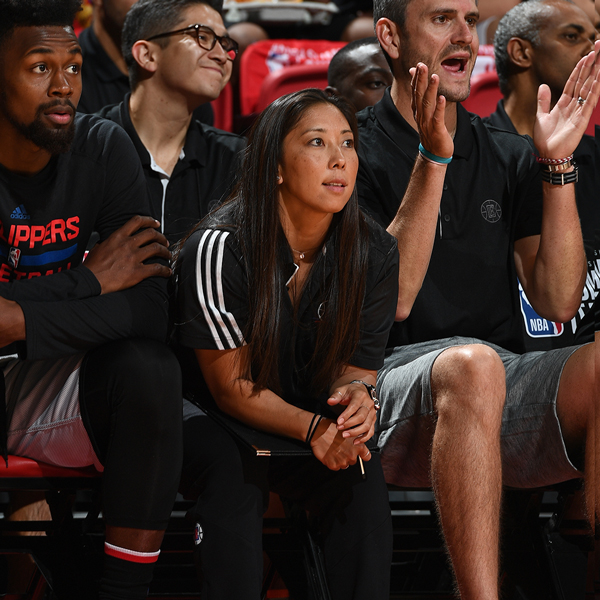 Source: Michelle Uzeta, clipsnation.com
Six years ago Natalie Nakase told former NBA point guard and Phoenix Suns coach Earl Watson that she wanted to coach in the NBA. Through hard work and steely determination, she has finally reached that goal. In 2018-19, Nakase will be just the fourth woman to coach during a regular NBA season, and the first in Los Angeles, joining veteran coach Doc Rivers on the Clippers' bench.
Nakase was promoted to the Clippers' Player Development staff earlier this summer after completing her sixth season within the Clippers organization and her first in the role of assistant coach with the Agua Caliente Clippers. Nakase started off as an assistant video coordinator with the franchise, a position she held for three seasons.
Nakase has an impressive basketball resume, full of bold moves and coaching firsts. Indulge me as I fangirl …
Nakase, a Southern California native, turned down a full scholarship at UC Irvine to attend UCLA. She earned a spot on the Bruins roster as a walk-on and went on to be a three-year captain and starting point guard. She finished her career in 2003 ranked eighth all-time in assists, 10th all-time in steals and having received an honorable mention nod as an all-conference player in the Pacific-10 Conference.
The diminutive (5'2") baller went on to play two years in the now defunct National Women's Basketball League, suiting up for the for the San Jose Spiders and San Diego Siege. She was the first Asian American to play in the league. Nakase also spent time playing overseas in Germany.
Knee injuries forced Nakase into early retirement from playing basketball and ushered her into her current coaching career. The 38-year-old boasts two seasons as the head coach of the Wolfenbüttel Wildcats in Germany's professional women's league (2008–09 and 2009–10), and one season (2010-11) as the assistant coach for the Tokyo Apache in Japan under former NBA head coach Bob Hill. Nakase also served as the head coach of the Saitama Broncos during the 2011-12 season; the first female head coach in Japan's men's pro basketball history.
Nakase is one of only five women who have coached in the NBA, the others being Becky Hammon (San Antonio Spurs), Big3 Coach of the Year Nancy Lieberman (Sacramento Kings), Jenny Boucek (Sacramento Kings / Dallas Mavericks), and Nicki Gross (Toronto Raptors), Nakase was the first female coach to sit on an NBA team's bench, when she served as an assistant coach for the Clippers' 2014 NBA Summer League team. She is the fourth woman, joining Hammon, Lieberman and Boucek, to coach during the regular NBA season.
We caught up with Natalie recently to talk about the upcoming season, among other things. Here is what she had to say.
CN: Now that you're on the Clippers' player development staff, what is your typical day like, and what do you do to help the team and players get better and win more games?
NN: Right now, in the off-season, it's all about the players and what they want to work on ahead of the upcoming season. For the veterans, they're usually traveling and spending time with their families. Doc encourages our coaching staff to go visit the players in their hometowns and continue to build strong relationships. If our schedules work out, I'll be visiting Luc in Cameroon in a few weeks. There I will be putting him through skill workouts and observing him playing pickup games with local players. Our younger players are already back in LA and working out. As player development coaches, it's our job to constantly manage their daily schedule and make sure they understand how to work as a pro. Not only are they working on their basketball skills, they're working on their bodies in the weight room, receiving therapy and doing anything and everything they can to improve themselves to ensure they're ready for the upcoming season.
Click here to continue reading: Natalie Nakase Explains How She Became an NBA Coach