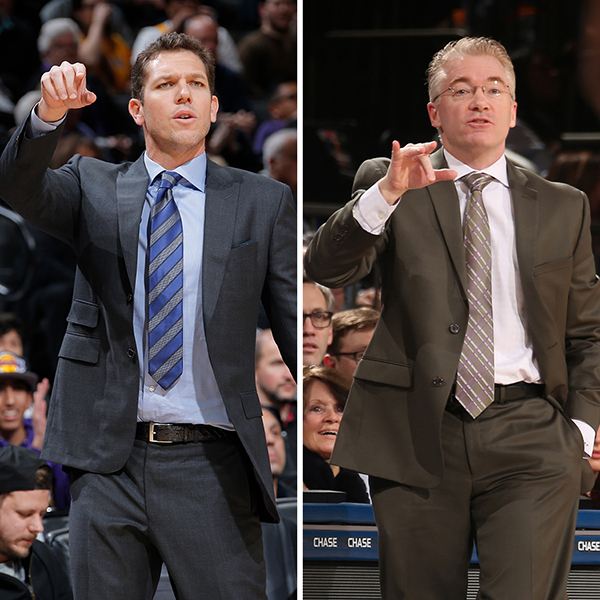 Source: Bill Oram, Orange County Register
LOS ANGELES — Luke Walton has grown accustomed to bumping into his high school coach since they both reached the NBA. When the Lakers traded Walton to Cleveland in 2012, Joe Prunty worked as a Cavs assistant.
Not until Friday, however, had the two men with ties to San Diego's University High School been head coaches against each other in a game.
"The fact that we were in the same high school together and he was coaching me," Walton said, "that part, I've gotten over. But if you do take a step back it's kind of strange that my high school coach is now the coach of the team I'm coaching against."
Prunty was the coach of the freshman team and a varsity assistant when Walton was in high school. They were both part of the team that in 1998 won a CIF State championship before Walton headed off to the University of Arizona and a 10-year NBA career.
"I'll take credit for everything," Prunty joked. "Unbelievable player. His IQ was and still is off the charts. Him and his brothers were tremendous high school players, just in terms of being able to pass and make plays for people.
"With their size, being able to handle the ball, (they) could bring it up the floor, it was fun to watch them play and be a part of them developing."
Prunty is a well-traveled NBA assistant, having spent time with six organizations. In January, he became the interim coach in Milwaukee after the Bucks fired Jason Kidd.
"I had a lot of fun with Coach Prunty when I was in high school," Walton said. "He's one of those guys that's easy to talk to and he made the high school experience a lot of fun."
To continue reading, click here Lakers' Luke Walton, Bucks' Joe Prunty share unique path to NBA coaching careers