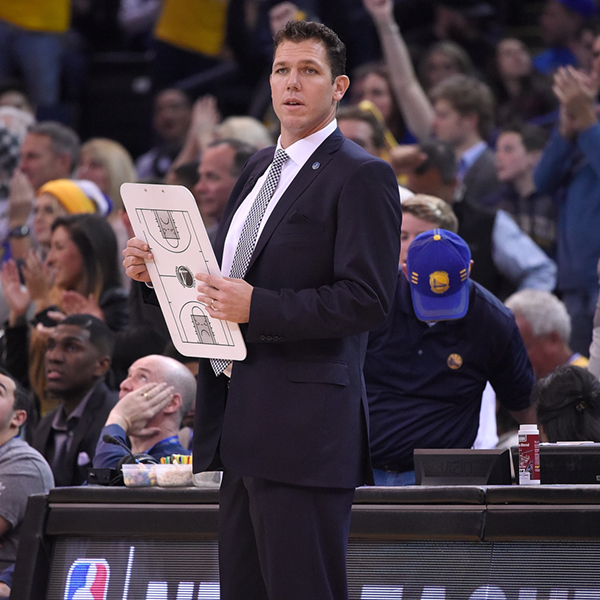 The Warriors made NBA history on Tuesday night, becoming the first team ever to begin a season 16-0 after earning a 111-77 victory over the visiting Los Angeles Lakers. Stephen Curry recorded a game-high 24 points and nine assists, while Draymond Green filled the stat sheet with 18 points, seven rebounds and five assists on his very own bobblehead night.
It's official. The Warriors are off to the best start in NBA history, besting the previous mark of 15-0 set by the 1948-49 Washington Capitols and 1993-94 Houston Rockets. From the moment the game began, the Warriors' dominance became quite clear, as Draymond Green opened the scoring with a three-pointer just 16 seconds into the contest. The Lakers would hang tight through the first four minutes, but after DeAngelo Russell's jump shot brought Los Angeles within 8-7, the Dubs immediately responded with a 15-0 run to put the Lakers in a hole they would never be able to climb out of. Stephen Curry's three-pointer with 44 seconds left in the first quarter capped off the scoring in the opening frame and sent the game into the second quarter with the Warriors leading 30-11. The two sides would then trade baskets for the majority of the ensuing frame, as Los Angeles actually managed to outscore Golden State 27-24 in that second quarter and slightly recoup some of the deficit, as they trailed by 16 going into halftime.
Two Roy Hibbert free throws capped off a 6-0 Lakers' burst, cutting the deficit to 58-44 with more than nine minutes remaining in the third quarter, but the Warriors quickly erased any thoughts of a comeback out of their minds. Golden State responded with an 11-0 run of their own, and the rout was on. Things would only get worse for the Lakers from there, as the Dubs continued to build upon their lead to the tune of 89-55 heading into the fourth and final quarter, at which time Luke Walton pulled his starters from the game.
The Warriors' reserves managed just fine in their absence, however, as Brandon Rush's three-pointer with 6:50 remaining gave the Warriors their largest lead of the game at 106-65. From there, it was just simple math, as the Dubs coasted through the final minutes to a 111-77 victory and moved to 16-0 on the season, setting a new NBA record. Including their 17-game win streak from a season ago, the Warriors also became the first team in NBA history to post win streaks of 16 games or more in consecutive seasons. The Warriors now sit alone atop the best starts to a season in NBA history, and will look to build upon their record when they take on the Suns in Phoenix on Friday.