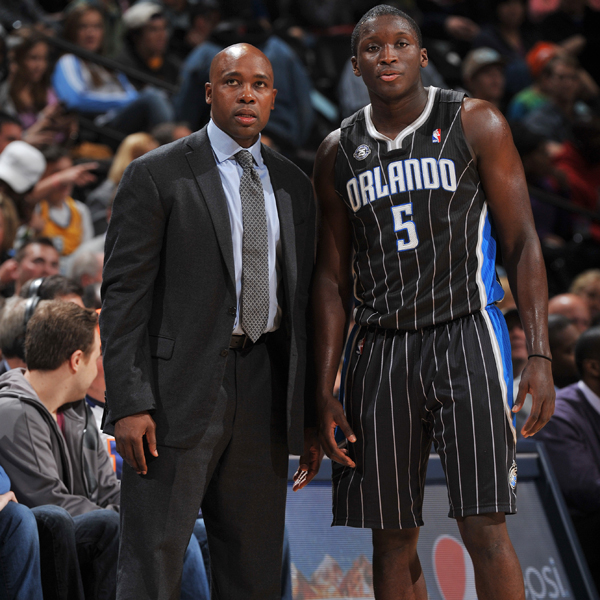 Magic Extend Contracts of General Manager Rob Hennigan and Head Coach Jacque Vaughn
ORLANDO – Working in close concert the past two years, GM Rob Hennigan and head coach Jacque Vaughn have assembled and developed a foundation of promising players that should allow the Orlando Magic to make major strides in the years to come.
On Friday the Magic made moves that will ensure that Hennigan and Vaughn are around to see Orlando's massive rebuild through to completion.
Magic CEO Alex Martins announced that the fourth-year team options on the contracts for Hennigan and Vaughn have been exercised, meaning their deals will be extended through the 2015-16 season. Hennigan and Vaughn have been with the Magic the past two seasons and are under contract now for at least two more seasons – much to the delight of Martins.
"Rob and Jacque have worked extremely hard in establishing a culture which embodies teamwork, hard work, hunger for success and humility,'' Martins said. "With their strategic direction and leadership we feel we are headed in the right direction which will allow us to achieve our goals of contending in a long term sustainable fashion.''
Hennigan and Vaughn joined the Magic 37 days apart in the summer of 2012 and only one player – veteran point guard Jameer Nelson – is still with the franchise following a major makeover of personnel. But in that time, the Magic have been able to stockpile a gaggle of young talent, while also establishing plenty of financial flexibility for the future.
Hennigan has drafted three players – Victor Oladipo, Kyle O'Quinn and Andrew Nicholson – who have made major contributions the past two seasons. Oladipo was the No. 2 pick in last June's NBA Draft and he delivered on his massive potential with a solid rookie season. And O'Quinn looks to be one of the steals of the 2012 draft, going from the 49th overall selection to a full-time starter who ranked in the NBA's top 20 in blocked shots this past season.
Hennigan also wisely passed on center Andrew Bynum – who has played just 26 games the past two seasons with three teams because of knee injuries – when forced to trade Dwight Howard in August of 2012. Hennigan instead flipped Howard and several burdensome contracts for starters Arron Afflalo, Nikola Vucevic, Maurice Harkless and a 2014 first-round draft pick. That pick will be in the lottery and will give the Magic two top-14 selections in the upcoming June draft.
Hennigan also dealt J.J. Redick's expiring contract in 2013 for promising forward Tobias Harris and shooting guard Doron Lamb. Harris, who quickly established himself as a core piece for the Magic, has averaged 17.3 points and 14.6 points for the Magic over the past two seasons.
"Rob's exceeded my expectations in how quickly he's been able to put pieces together. And he's done a great job of maximizing the assets in every deal that we've made,'' Martins said recently of Hennigan's moves. "That's partly because he's disciplined, he's got a process that he sticks to and he's very patient. He's not going to make a deal if he doesn't maximize the assets that we're going to get in return, no matter what that deal is. If you look at every deal he has made so far, he has clearly maximized all of the assets that we've gotten in return.''
Hennigan said he fully expects the Magic to make significant strides next season. Following retooling seasons of 20 and 23 wins, he knows that it is time for the Magic's potential-filled young players to start developing into a cohesive unit that can consistently find success.
"I think we're on plan and I think we're moving in the right direction. You know us – we don't typically like to put a concrete timeline on things. But I do expect to see some improvement next year, we all do,'' Hennigan said in April. "We expect to be playing more meaningful games next year than we did this year. We want to continue to grow, continue to get better and believe in the process. If you ask all of the guys, the coaches and everyone in our organization there's a true belief and a real conviction in what we're doing and that can be a powerful thing.''
The Magic made a three-win improvement over the 2012-13 season, but Vaughn said from the start that player development would be more of the focus than the daily win-loss tallies. That development could be seen in the steady growth of young players such as Oladipo, O'Quinn and Harkless on a nightly basis. Vaughn, a point guard in the NBA for 12 seasons before going into coaching, successfully integrated the 21-year-old Oladipo in at the point guard and shooting guard positions throughout the season. He also showed faith in O'Quinn and Harkless as starters and both blossomed into dependable and productive players over the final six weeks of the regular season.
"You can take individuals and see what they were like when we first got them and drafted them and where they are now,'' Vaughn said of the improvement made by certain players. "You give those guys a lot of credit and you give our general manager a lot of credit for getting the right people in the locker room.''
Vaughn also put a big emphasis on the Magic being a better home team this past season and the team responded accordingly in games at the Amway Center. Orlando won 19 games at home – a seven-victory improvement over the previous season. Included in those wins were stirring home defeats of playoff teams Oklahoma City, Indiana, the Los Angeles Clippers, Portland, Brooklyn (twice) and Atlanta.
Vaughn has been praised by Hennigan and others for his patience and his consistent approach throughout the trying past two seasons. He said he has tried to remain true to the ideals that he was taught as a player so that the Magic can build strong habits in their young players and someday soon be a good team for years to come. Skipping steps, panicking or attempting a quick-fix would be foolish, Vaughn said, and the Magic are taking the steps needed to make the team a perennial contender again in the near future.
"Overall our message hasn't changed. We've talked about not skipping steps and we've talked about sometimes those steps are painful. You are in sports to win and that's stated and understood, but when you are trying to build something that has some longevity, you have to do it the right way,'' Vaughn said. "There is no blueprint or template and you can't look down and say we're at step 1, step 2 or step 3. You continue to assess your improvement and see where are we financially compared to two years ago? Where are we organically with our guys in our locker room compared to two years ago? And where are we improvement and growth wise? Those are growth areas that you can tangibly look at and I think we're on the right path.''
via www.nba.com by John Denton