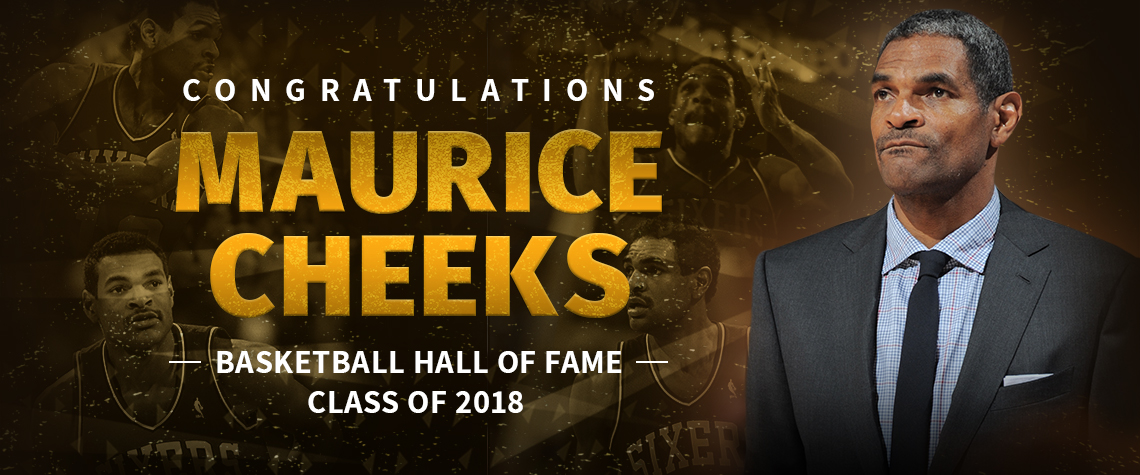 Source: Fred Katz, The Norman Transcript
SAN ANTONIO — It took long enough.
Thunder assistant coach Maurice Cheeks will finally be inducted into the Naismith Basketball Hall of Fame, according to ESPN's Adrian Wojnarowski.
Cheeks has been eligible to make the Hall since 1998, five years after he retired from a 15-year playing career that included stops in New York, Atlanta, San Antonio, New Jersey and, most prominently, Philadelphia. He will join a 2018 Hall of Fame class that also includes Grant Hill, Jason Kidd and Steve Nash, according to Wojnarowski.
The Hall of Fame plans on making the announcement official at the upcoming weekend's Final Four in San Antonio.
Cheeks played the first 11 years of his career for the 76ers, earning a reputation as a sharp decision-maker, unselfish facilitator, efficient scorer and stingy defender during that time. He made four All-Star Games during his career, all as a member of the Sixers, and finished on the All-Defensive First Team every season from 1982-83 to 1985-86. He made All-Defensive Second Team in 1986-87.
His 51 percent field-goal percentage during the postseason is also the best of any guard ever.
"I was always a big fan of those Sixers teams back then," Thunder coach Billy Donovan, who declined to comment on Cheeks' induction Thursday until it becomes official, said earlier this year. "Mo was a great catalyst to those teams and had an incredible career and really was the floor general for their team and certainly brought a lot of success to [that] city, to [that] organization."
Cheeks has been an assistant coach with Oklahoma City for seven seasons, where he's grown particularly close with Russell Westbrook.
"Cheeks has been a great inspiration to me. He's been with me since Day 1, since I was a young buck. Now I'm old," Westbrook said in mid-February. "He's here and he's always representing and he's always got me, great advice for me and always steering me in the right direction."
Cheeks has also been a head coach in Detroit, Portland and Philadelphia.
"It's very rare that you get these coaches that played as long as he did and how well he did in this situation," Thunder center Steven Adams said Wednesday. "When he speaks, it's comfortable knowing that he knows because he's been through the paces. And what he says is influenced by what he's experienced a lot.
"So, we can relate really easy to what he says and it's really, for all the players, it just clicks really fast. So, obviously it's been great having him."
To continue reading, click here: Thunder assistant Maurice Cheeks to be inducted into Hall of Fame