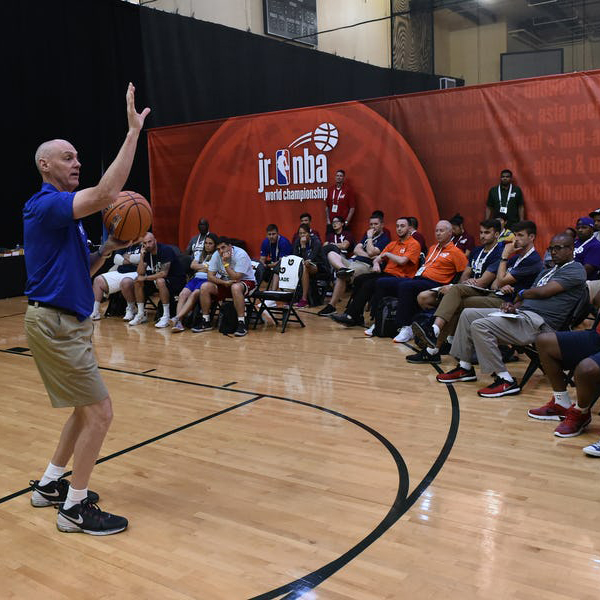 Source: Brad Townsend, sportsday.com
Judging from the excitement in Rick Carlisle's voice, one would think Mavericks training camp was commencing now, not in six weeks.
Speaking to The News by cellphone, Carlisle was, in fact, standing on a basketball court. He had just finished doing what comes naturally to him, teaching basketball, but his pupils were not Mavericks. They were 64 coaches from around the world, at the ESPN Wide World of Sports at Disney complex in Kissimmee, Fla., to guide their age 13-14 boys and girls teams in the inaugural Jr. NBA World Championship.
"It looks like an Olympics, the way they have this place set up," Carlisle said. "It's a great coming together, a celebratory melting pot of the game. I'm really in awe of what they have done here."
Among American-rooted sports, basketball is the only one that remotely approaches soccer in global reach. Last season's opening-week NBA rosters included 108 players from 42 countries, marking the fourth straight year above the century mark.
Since 2001, the NBA and FIBA have staged Basketball Without Borders development and community outreach camps on six continents, but in America, basketball development largely has spawned from youth leagues like AAU and YMCA. The Jr. NBA World Championship initiative signals the league's desire to marry its global outreach to its recent efforts to increase its involvement on U.S. soil.
"The Jr. NBA World Championship," said NBA commissioner Adam Silver, "represents another significant step in our effort to get more engaged in grassroots basketball."
How engaged is Carlisle in the weeklong Jr. NBA World Championship, which ends Sunday? In addition to leading an hour-long clinic and question-answer session, he is one of two NBA head coaches on the Jr. NBA leadership council. Boston's Brad Stevens is the other.
Click here to read the full article: Mavs' Rick Carlisle is a guiding force at the Jr. NBA World Championship — a 'celebratory melting pot' of basketball