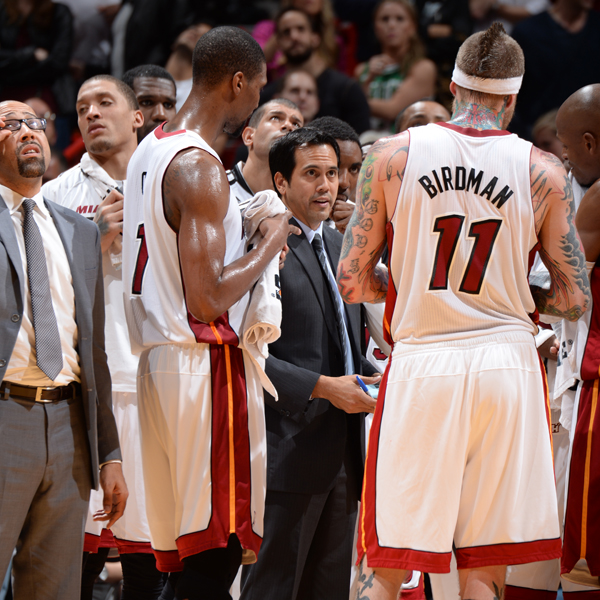 With Sunday's 93-79 win over the Chicago Bulls, Miami Heat coach Erik Spoelstra became the sixth-fastest coach in NBA history to reach 300 career regular-season wins.
He needed just 448 games to accomplish the feat and now owns an impressive 300-148 record—good for a .670 winning percentage—since taking over as Miami's coach before the 2008-09 season.
Spoelstra's first two seasons in Miami didn't exactly set him on the right path for reaching milestones, as the Heat averaged 45 wins and bowed out in the first round of the playoffs both years. Those first two teams were heavily reliant on Dwyane Wade, who would soon be joined in Miami by fellow stars LeBron James and Chris Bosh.
Since the Big Three joined forces before the 2010-11 campaign, the Heat have gone 210-74 (.739 winning percentage) in the regular season, with a strong 46-21 playoff record (.687) to boot.
Wade, Bosh and particularly James get most of the credit, but Spoelstra finally seemed to garner the warranted respect last season when the Heat put together a 27-game winning streak on the way to a memorable NBA Championship.
The 43-year-old Spoelstra further proved his coaching chops Sunday, as the Heat didn't miss a beat with James sidelined by a broken nose.
Oddly enough, while Spoelstra is the sixth-fastest coach to 300 wins, Heat team president Pat Riley was actually the fastest. As coach of the Showtime Lakers in the 1980s, Riley only needed 416 games to reach the 300-win mark, meaning that he owned an incredible .721 career winning percentage upon reaching the milestone.
That winning percentage is undoubtedly excellent, but it falls short of the .739 regular-season mark the Heat have compiled since signing Bosh and James.
When Riley reached the 300-win mark in December 1986, he already had two championships and a pair of NBA Finals losses to his name.Spoelstra can match the two titles, but has only made one unsuccessful trip to the Finals.
As much as the sixth-year coach has done to prove himself, Spoelstra's place in the record books may ultimately depend upon the length of James' stay in Miami. If the superstar forward heads elsewhere after this season or next, Spoelstra will probably have a hard time matching Riley's six rings as coach.
Of course, there's always a chance that James will look to bring Wade and/or Bosh to his next stop, in which case it would probably make sense to bring Spoelstra along for the ride.