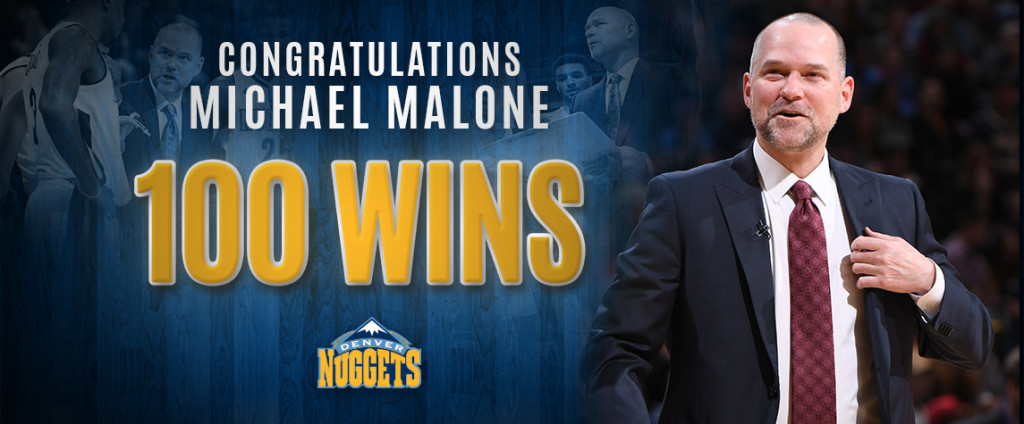 Source: Christopher Dempsey, NBA.com/nuggets
One-hundred wins.
It's a nice early milestone for coaches, and Nuggets coach Michael Malone collected his 100th victory in the win over Oklahoma City on Thursday night. But what does it mean to Malone? He gave a thoughtful look at how he views it after shootaround on Saturday morning.
"One hundred wins doesn't mean much," Malone said. "I'm more worried about the big picture, the direction we're headed in. That's what excites me. It's not about me, and I mean that sincerely. When you have a locker room full of players that genuinely have bought in and come to work every day with the right attitude and mindset, I love where we're headed. And I hope to be here to see this team kind of come together.
"And when you think about what we have potentially in the making, I'd love to be here to see that through, because of who they are, the talent they have and how much joy I get from working with them. Three years, when I first got here, I was taking over a team that had not been playing well. So, you come in here, you try to instill a culture and change things around, and I think we've done that in three years. You feel unfortunate, because I think if Paul Millsap stays healthy, we're not fighting for our lives to be the eighth seed – I think we're potentially playing for home court advantage in the first round. But it is what it is. You have to adapt. You have to adjust.
"But 100 wins, that's great. But they're the guys that win the games, not me. I try to put them in the best position I can. But most importantly, when I reflect on this I love where we're at, I look at where we've come from and most importantly I love the direction we're headed. And that is credit to (team president) Josh Kroenke, that's credit to (president of basketball operations) Tim Connelly, and that's credit to my coaching staff and all of the players that we have."
Click here to read the full article: Nuggets Coach Michael Malone Credits His 100 Victories to Players