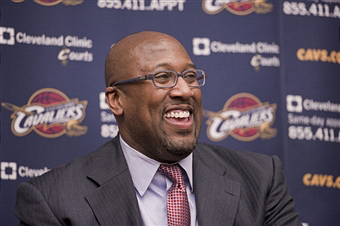 Cleveland Cavaliers head coach, Mike Brown, supports the following charities.  
The mission of St. Jude Children's Research Hospital is to advance cures, and means of prevention, for pediatric catastrophic diseases though research and treatment. Consistent with the vision of our founder Danny Thomas, no child is denied treatment based on race, religion or a family's inability to pay.
Basketball without Borders (BWB) is the NBA and FIBA's global basketball development and community outreach program that unites young basketball players to promote the sport and encourage positive social change in the areas of education, health, and wellness. 
The top youth players 19 and under from Asia, Europe, Latin America and Africa, as selected by the NBA, FIBA and participating federations, will train under NBA players and coaches and compete against their peers. NBA players will partner with local community groups to lead daily life-skills sessions focusing on the importance of education, leadership, character development, health and wellness. To promote friendship and diversity, the campers are divided into teams without regard to race and nationality.
The program has also reached countless others through its community relations outreach efforts in each region. Efforts usually culminate with an NBA Cares Legacy Project, which includes the creation of safe places where kids and families can live, learn or play. As part of Basketball without Borders, the NBA has created and dedicated 50 of these safe places outside the United States and Canada.
To empower individuals, educate the community and advocate for justice to end domestic violence and child abuse.
The Cleveland Metropolitan School District envisions 21st Century Schools of Choice where students will be challenged with a rigorous curriculum that considers the individual learning styles, program preferences and academic capabilities of each student, while utilizing the highest quality professional educators, administrators and support staff available.
Cleveland Christian Home exists to be a haven of hope and healing for children, youth and families struggling with mental illness, abuse and neglect.
Shoes and Clothes for Kids is the only non-profit organization in Greater Cleveland providing new shoes and clothes at no charge throughout the year to thousands of children in need.