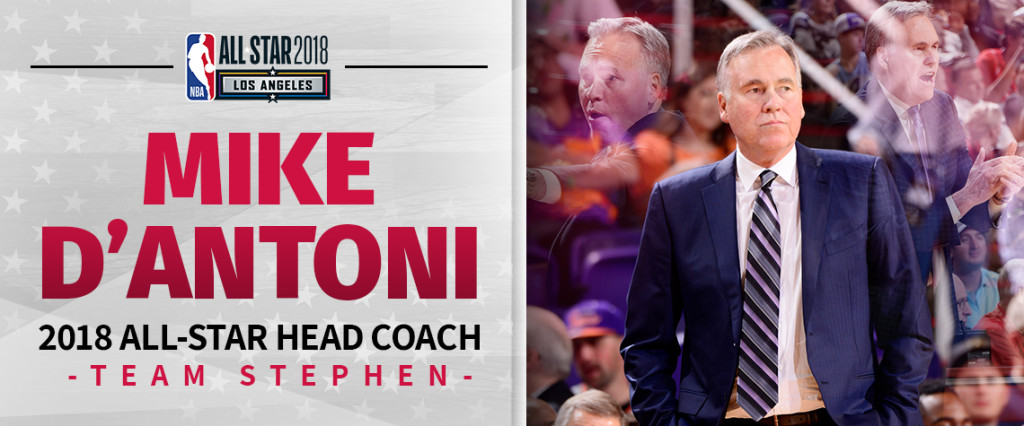 Source: NBA.com
NEW YORK – Houston Rockets head coach Mike D'Antoni and his staff will coach Team Stephen in the 2018 NBA All-Star Game on Sunday, Feb. 18 (8 p.m. ET) at Staples Center in Los Angeles.  D'Antoni joins Rudy Tomjanovich (1997) as the Rockets' only All-Star Game head coaches.
A two-time NBA Coach of the Year, D'Antoni earned All-Star Game head coaching honors for the second time.  As the Phoenix Suns' head coach, he led the Western Conference past the Eastern Conference 153-132 in the 2007 NBA All-Star Game in Las Vegas.
The Rockets (34-13, .723) tonight clinched the best record in the West through games played on Sunday, Feb. 4 among the 14 conference teams with a head coach eligible for the 2018 All-Star Game. Golden State Warriors head coach Steve Kerr was ineligible because he coached the West in last year's All-Star Game.
Under a new All-Star Game format that replaces the traditional matchup between conferences, each 2018 All-Star Game coach will lead the team that includes the captain from the same conference.  D'Antoni and his staff will coach the All-Star team that features Golden State's Stephen Curry as captain
The eligible head coach of the team with the East's best record through games of Feb. 4 will coach the All-Star team captained by the Cleveland Cavaliers' LeBron James.  Boston Celtics head coach Brad Stevens is ineligible to coach Team LeBron because he led the East in last year's All-Star Game.
D'Antoni, in his second season with Houston, has an 89-40 record (.690) as the Rockets' coach.  Last season, he was named the 2016-17 NBA Coach of the Year after guiding Houston to a 55-27 record and the No. 3 playoff seed in the West.  He was also voted Coach of the Year with Phoenix in 2004-05, when the Suns tied a team record with 62 victories.  His career coaching record is 544-466 (.539) over 14 seasons with the Denver Nuggets, Suns, New York Knicks, Los Angeles Lakers and Rockets.
The 67th NBA All-Star Game will air on TNT and ESPN Radio.  The game will reach fans in more than 200 countries and territories in more than 40 languages.
Click here to read the official release: Houston Rockets' coach Mike D'Antoni to coach Team Stephen in All-Star Game