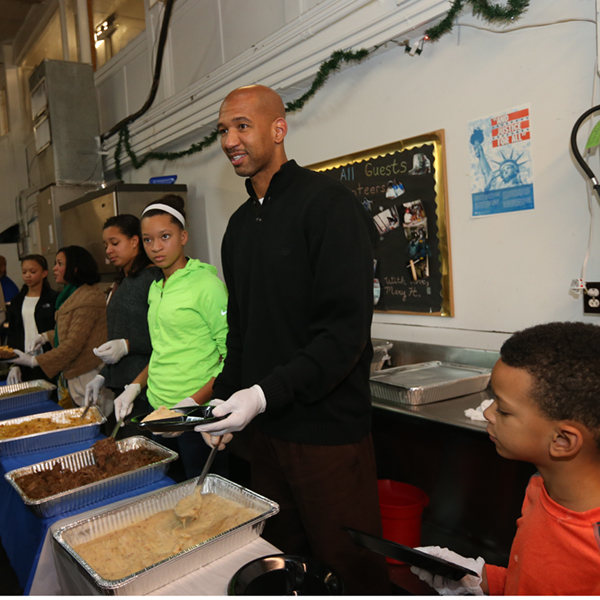 As the executive director for the New Orleans Mission, David Bottner sees Monty Williams as a familiar face not because Williams is the head coach of the city's NBA team. No, Williams is well-known to Bottner due to the regular visits Williams makes to the Mission, a homeless shelter in Central City. [dopwgg id="26″]
"Before the (NBA) season started, he literally would be here a night or two a week and just serve," Bottner said. "He connects with people. It's just neat to see that, and see that he didn't come to be seen. He came under the radar. He didn't want to be 'Coach.' He just wanted to be Monty Williams."
On Thursday evening, Williams donated and hosted a holiday dinner for 200-plus residents of the New Orleans Mission, many of whom were celebrating graduating from the organization's one-year discipleship program. Williams was joined by his family and members of the Pelicans' basketball operations staff in serving food to residents, who are known as "disciples" in the program.
"One thing they do here is they put God first," Williams said of the Mission's importance. "That in itself opens so many doors for the unloved, or people who get turned away, some of the outcasts in our city. The message is come one, come all. You're not only going to get fed in your stomach; you're going to get fed spiritually. It's a cool thing for me and my family to be a part of. They do so much for people here, who need a lot. That's a wonderful thing."
The Mission describes one of its primary goals as moving "men and women from a state of homelessness and helplessness to becoming fully devoted to live a life of service and honor. Disciples also participate in life skills courses, counseling sessions, job placement programs and labor services."
When he began working at the New Orleans Mission in 2012, Bottner often wondered why Williams chose the shelter as a place to spend his time. The coach's explanation was based on his deep religious faith.
"You always ask people why or what their motivation is (to help)," Bottner said. "For example, did they have a family member who was homeless? But (Williams) said it was because God has called us to serve the least (fortunate).
"We're very grateful for it. We're grateful for anybody who serves. But when you have someone who is a public figure in the community, I think it lets other people know (its importance). What's really cool is he does this without all the attention, with no media here. He feels like he's called on to make a difference. He believes if I can make a difference in one person's life, and give someone hope or encourage someone, that's what's important."
via www.nba.com