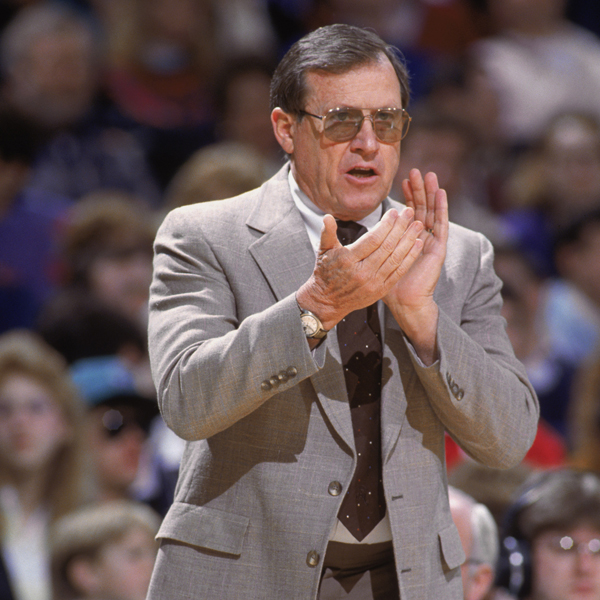 Cleveland, June 9, 2015–Dick Motta, one of the winningest coaches in NBA history, is the recipient of the 2015 "Chuck Daly Lifetime Achievement Award", the National Basketball Coaches Association announced today.
"Dick Motta was a true NBA coaching pioneer who brought to the game a great basketball mind, with a competitive toughness. During his impactful career he has made a huge contribution to the game. Among his coaching peers and former players and students of the game he is a respected coach, teacher, mentor and an individual that personifies the best of NBA coaching," said Dallas Mavericks head coach and National Basketball Association president Rick Carlisle.
During his 25 seasons in the NBA, Motta garnered a special and well-deserved reputation for producing winning teams, for his deep knowledge of the game and his development of some of the greatest NBA players and future NBA coaches. Motta holds the unique distinction of being one of the very few coaches, and arguably the most successful NBA coach, who never played high school, collegiate, or professional basketball.
After graduating from Utah State University, Motta served in the U.S. Air Force achieving the rank of Lieutenant. Motta then began his basketball coaching career at Grace High School in Idaho. In his first year of coaching, Motta took Grace High School to the 1958 Idaho High School State Championship Game and the following year won the Idaho High School State Championship.
In 1968, after an outstanding coaching career at Weber State University (120-33 in six seasons, including three Big Sky Championships and a trip to the NCAA "Sweet Sixteen"), Motta was hired as head coach of the Chicago Bulls in just their third year of existence. During his eight- year tenure with the Chicago Bulls, Motta led the franchise to six consecutive playoff appearances (1969-1975), four consecutive seasons of 50 wins or more (1970-1974) and was the recipient of the 1971 NBA Coach of the Year Award.
In 1976, after his success in Chicago, the Washington Bullets offered Motta its head coaching position. Motta continued his success leading the Bullets to four consecutive playoff appearances (1976-1980). In 1978, Motta coached the Washington Bullets (now Wizards) to its only NBA
Championship in franchise history. In a thrilling seven game series, Motta's Bullets defeated the Seattle SuperSonics coached by Hall of Famer Lenny Wilkens.
In 1980, Motta became the first head coach of the Dallas Mavericks. Motta led the Mavericks to four consecutive playoff appearances (1983-1987), including a 55-27 record in 1987. Before his retirement from NBA Coaching in 1997, Motta would go on to coach the Sacramento Kings (1989-1992) and the Denver Nuggets (1996-1997).
Upon retirement, Motta's 1,952 regular season games coached ranked second all-time in the NBA (presently ranks sixth of all-time) and his 935 regular season wins ranked third all-time in the NBA (presently ranks twelfth of all-time). Over the course of his career, Motta would lead teams to 14 NBA playoff appearances including: 6 straight for the Chicago Bulls (1969-1975), 4 straight for the Washington Bullets (1976-1980), and 4 straight for the Dallas Mavericks (1983- 1987). Motta would lead three different franchises to 50-plus win seasons (Chicago Bulls, Washington Bullets, Dallas Mavericks).
Among Motta's many contributions to basketball is the enormous role he has played in shaping the next generation of NBA coaches. Dick Motta's "coaching tree" extends to Phil Johnson, Jerry Sloan, Mitch Kupchak, Bob Weiss, Bernie Bickerstaff, Danny Ainge, Ron Ekker, Brad Davis, Scott Brooks, Jason Kidd, Gene Littles, Jim Brovelli, Mark Jackson, Clifford Ray, and Rick Adelman.
"I am honored to be this year's recipient of the NBA Coaches Association Annual Chuck Daly Lifetime Achievement Award. Chuck was a great friend, a great coach and a true NBA legend. To receive this award from my fellow coaches and our Association is certainly an honor and very much appreciated," said Coach Motta.
"I had the privilege of coaching with Dick Motta and know first hand the contribution he has made to his fellow coaches, players and the community. NBA Basketball was given a big boost by Dick Motta during the time he was involved in the game," said Bernie Bickerstaff, last year's recipient of the Annual Chuck Daly Lifetime Achievement Award.
The National Basketball Coaches Association Chuck Daly Lifetime Achievement Award honors the memory of Hall of Famer Chuck Daly, who over an outstanding NBA coaching career set a standard of integrity, competitive excellence and tireless promotion of NBA basketball. This year's award recognizes the extraordinary contributions Dick Motta has made to the sport throughout his NBA career through building a body of work that has had a positive and powerful impact on the NBA coaching profession. Motta has embodied the high standards and leadership philosophies that Coach Daly brought to the game.
The National Basketball Coaches Association Chuck Daly Lifetime Achievement Award recipient is selected annually by the Award Selection Committee. This Committee is comprised
of some of the most respected coaches and basketball executives in the game, including Billy Cunningham, Donnie Walsh, Gregg Popovich, Lenny Wilkens, Joe Dumars, Pat Riley, and Phil Jackson. Prior recipients are Bernie Bickerstaff (2014), Bill Fitch (2013), Pat Riley (2012), Lenny Wilkens (2011), Tex Winter and Jack Ramsay (2010) and Tommy Heinsohn (2009).