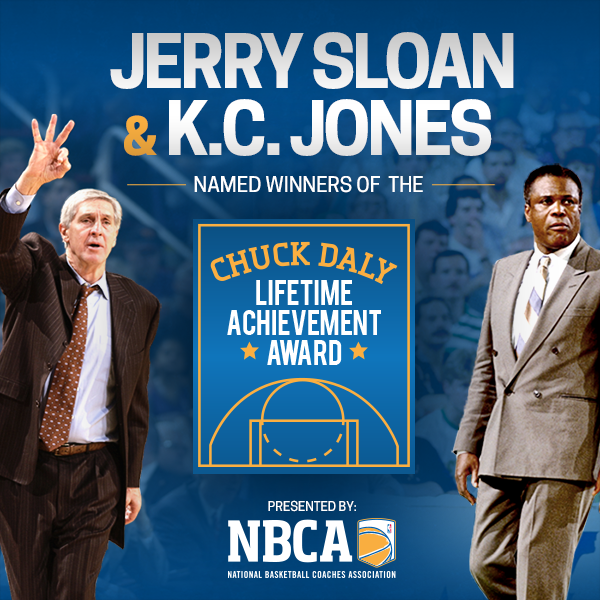 VIEW THE 2016 CHUCK DAILY LIFETIME ACHIEVEMENT AWARDS PRESS CONFERENCE HERE
Cleveland, June 8, 2016—K.C. Jones and Jerry Sloan, two of the most impactful and successful coaches in NBA history, are the co-recipients of the 2016 "Chuck Daly Lifetime Achievement Award," the National Basketball Coaches Association announced today.
"It is a privilege to present this important award to two people who represent the absolute best in integrity and coaching excellence. I had the honor to play for K.C. Jones on the 1986 NBA Champion Boston Celtics. K.C. was one of the greatest competitors in NBA history and had a unique and understated way of bringing out the greatness of his players and teams. Jerry Sloan is a coaching icon because of his longevity, adaptability and creativity. Jerry's run of 23 years in Utah is the longest in NBA history and a testament to his competitive greatness. K.C. Jones and Jerry Sloan embody what the Chuck Daly Lifetime Achievement Award is all about," said Dallas Mavericks head coach and National Basketball Association president Rick Carlisle.
"It is an honor and a thrill for me to accept the NBA Coaches Association Chuck Daly Lifetime Achievement Award for 2016 on behalf of my father, K.C. Jones. Along with his family, his golf and his "songbook" basketball played such an important role in his life. Dad loved the NBA, coaching and his coaches and were he here, I know he would accept this honor with his humbleness and deep gratitude," said K.C. Jones III, son of K.C. Jones.
K.C. Jones is one of the most respected and successful players and coaches in the history of the NBA and one of the winningest figures in the history of the game. He won two NCAA titles at the University of San Francisco and was a member of the Gold Medal winning 1956 Men's Olympic team along with his USF and soon to be Celtics teammate Bill Russell. In the NBA, K.C. won 8 championships as a player, 2 as an assistant coach (one each with the Lakers and Celtics) and 2 as a Head Coach. In addition, his low key but firm approach to the game and his players yielded 7 Divisional titles and 5 Eastern Conference championships.
K.C. began his coaching career in 1967 as Head Coach at Brandeis University. That was followed by a year as a Los Angeles Lakers assistant before he was hired as Head Coach of the ABA's San Diego Conquistadors, whom he led to the playoffs. The following year, the NBA's Capital Bullets (now Washington Wizards) named Jones as their Head Coach and in three seasons he compiled a 155-91 record and took the Bullets to The NBA Finals in 1975.
Jones returned to the Celtics as an assistant in 1978 and succeeded Bill Fitch as Head Coach in 1983. In his five seasons as Celtics Head Coach, he had a 308-102 regular season record, winning 75% of his games, took the Celtics to The NBA Finals four straight years and won two NBA Championships.
K.C. finished his coaching career with a regular season record of 522-252 for an eye-popping .674 winning percentage and never had a losing season. His jersey number was retired by the Celtics in 1968 and he was inducted into the Naismith Memorial Basketball Hall of Fame in 1989.
"It is a special treat for me to be attending Game 3 of this exciting NBA Finals and to accept the 2016 NBA Coaches Association Chuck Daly Lifetime Achievement Award, along with a fine gentleman and outstanding coach, K.C. Jones. Like Coach Daly, I loved coaching and did my best to approach the job with professionalism, the concept of team effort and always playing hard. I thank my fellow coaches and all of my friends from the bottom of my heart for this special honor," said Coach Jerry Sloan.
Jerry Sloan enjoyed a stellar 11-year playing career, the last 10 with the Chicago Bulls. Known for his smothering defense, tenacity and no-nonsense approach to the game, Sloan was a two time All-Star and a member of 6 All-Defensive teams, 4 on the First Team.
Sloan began his coaching career as an assistant coach and scout for the Chicago Bulls. In 1979 Sloan was named Head Coach of the Bulls. In just his second season, he took the Bulls to the second round of the playoffs, the team's first postseason appearance after a three-year absence. After three years with the Bulls, Sloan joined the Utah Jazz, first as a scout and then as an assistant coach. When Frank Layden became team president in December 1988, the Jazz chose Sloan as the new Head Coach, thus beginning a historical run for both Sloan and the Jazz. Sloan would go on to become the longest tenured Head Coach of any team in any of the four major American team sports. Sloan still holds the record for most consecutive seasons (23) as Head Coach with one NBA team. He also served as an assistant coach for the Gold Medal winning 1996 USA Men's Olympic Team.
During his incredible run with the Utah Jazz, Sloan led the team to a total of 19 playoff appearances (including 15 consecutive), 16 consecutive winning seasons, 7 Division titles, thirteen 50-win seasons, three 60-win seasons, and back-to-back Western Conference Championships. Coach Sloan was recognized in 2004 by The Sporting News as the Coach of the Year as voted on by his NBA peers.
Sloan is one of nine coaches in NBA history to have surpassed 1,000 regular season victories (1,221) and is one of only two coaches (Gregg Popovich is the other) to have won 1,000 games with one franchise. Sloan ranks third all-time in most wins by an NBA Head Coach, fourth all time in regular season games coached (2,024) and fourth all-time in playoff games coached (202). His ability to put together teams that played smart, hard and unselfishly is one of the hallmarks of his outstanding coaching career.
His jersey was the first Bulls jersey ever retired (1978) and the Jazz raised a banner with 1223 (number of regular season and playoff games won under Sloan) in 2014. He was inducted into the Naismith Memorial Basketball Hall of Fame in 2009.
Among Sloan's many contributions to basketball is the enormous role he has played in shaping the next generation of NBA coaches and executives. His "Coaching Tree" includes Tyrone Corbin, Billy Donovan, Mark Eaton, Derek Fisher, Jeff Hornacek, Mark Jackson, Phil Johnson, Scott Layden, Dennis Lindsay, Mark McKown, Kenny Natt and Jacque Vaughn.
The National Basketball Coaches Association Chuck Daly Lifetime Achievement Award honors the memory of Hall of Famer Chuck Daly, who over an outstanding NBA coaching career set a standard of integrity, competitive excellence and tireless promotion of NBA basketball. This year's award recognizes the extraordinary contributions K.C. Jones and Jerry Sloan have made to the sport throughout their NBA careers through building a body of work that has had a positive and powerful impact on the NBA coaching profession. Jones and Sloan have embodied the high standards and leadership philosophies that Coach Daly brought to the game.
The National Basketball Coaches Association Chuck Daly Lifetime Achievement Award recipient is selected annually by the Award Selection Committee. This Committee is comprised of some of the most respected coaches and basketball executives in the game, including Bernie Bickerstaff, Billy Cunningham, Joe Dumars, Phil Jackson, Gregg Popovich, Pat Riley, Donnie Walsh, and Lenny Wilkens. Prior recipients are Dick Motta (2015), Bernie Bickerstaff (2014), Bill Fitch (2013), Pat Riley (2012), Lenny Wilkens (2011), Tex Winter and Jack Ramsay (2010) and Tommy Heinsohn (2009).