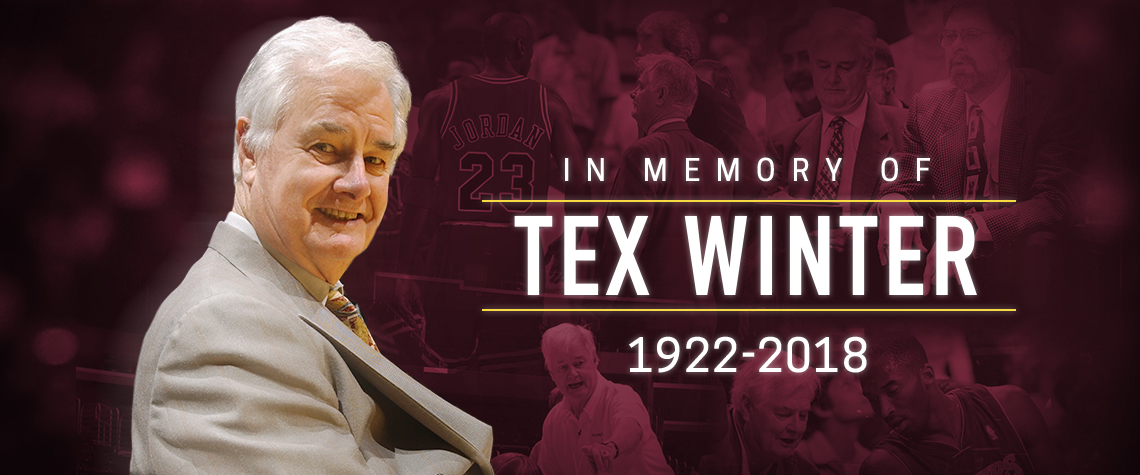 NEW YORK, October 11, 2018 – The membership of the National Basketball Coaches Association (all Head and Assistant Coaches in the NBA and its alumni group) mourn the passing of Coach Tex Winter. During an impressive NBA career, Tex Winter coached for the Houston Rockets, Chicago Bulls and Los Angeles Lakers. Tex was the recipient of the NBCA Chuck Daly Lifetime Achievement Award (2010), inducted into the Naismith Memorial Basketball Hall of Fame (2011), and won 10 NBA Championships (Chicago Bulls – 1991, 1992, 1993, 1996, 1997, 1998; Los Angeles Lakers – 2000, 2001, 2002, and 2009). In 2016, the NBCA launched its annual Tex Winter Assistant Coach Lifetime Impact Award to recognize Coaches who have had a storied career as an NBA Assistant Coach and have made a substantial impact while on the bench.
National Basketball Coaches Association President Rick Carlisle released the following statement:
"Tex was the quintessential basketball man. He had unparalleled love and respect for the game and was one of the important innovators in basketball history. His memory will live on in the hearts of all Coaches forever."
Our thoughts and prayers go out to the entire Winter family during this very difficult time.
About the NBCA: The National Basketball Coaches Association (NBCA) is the labor association that represents basketball coaches in the National Basketball Association (NBA). Founded in 1976 by legendary Boston Celtics player and coach, Tommy Heinsohn, the NBCA consists of all NBA Head Coaches, Assistant Coaches and alumni, and works closely with the NBA on all matters that pertain to the coaching profession.