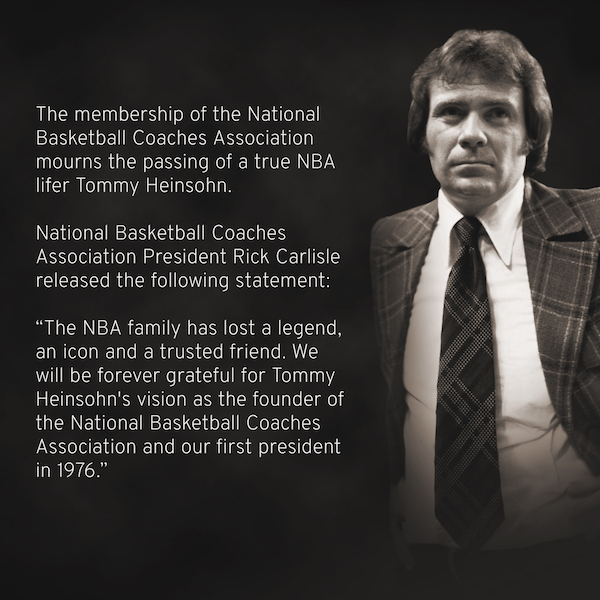 NEW YORK, November 10, 2020 – The membership of the National Basketball Coaches Association mourns the passing of a true NBA lifer Tommy Heinsohn. Over a legendary career, Tommy won 8 NBA Championships as a player, 2 as an NBA Coach and was a longtime broadcaster, all with the Boston Celtics. Tommy was just the 4th person ever elected to the Naismith Memorial Basketball Hall of Fame as both a player and a Coach and was the recipient of the 2009 NBCA Chuck Daly Lifetime Achievement Award. However, what truly set Tommy apart, was his efforts off-the-court to improve benefits for players and Coaches. Tommy served as a President of the National Basketball Players Association and later founded and became the first President of the National Basketball Coaches Association. Tommy's impact on the game was influential to countless people involved in basketball including so many of our current and former NBA Coaches.
National Basketball Coaches Association President Rick Carlisle released the following statement:
"The NBA family has lost a legend, an icon and a trusted friend. We will be forever grateful for Tommy Heinsohn's vision as the founder of the National Basketball Coaches Association and our first president in 1976."
Our thoughts and prayers go out to the entire Heinsohn family and the Celtics organization during this very difficult time.
###