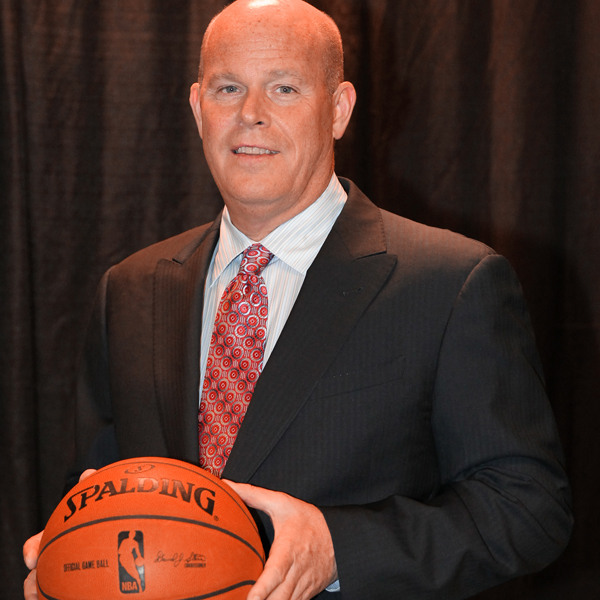 BUCKSPORT, Maine — Thirty years before he became a head coach in the world's premier basketball league, Steve Clifford made his high school coaching debut in Ralph Jewett Gymnasium.
It was not the best of days for Clifford, who had spent his early years in Mattawamkeag and later returned to Maine to graduate from the University of Maine at Farmington. His Woodland High School team lost its first scrimmage of the 1983-84 season to a Bucksport team that went on to win its second straight Eastern Maine Class B championship.
"We got smoked," Clifford recalled. "If anyone had told me then that 30 years later I'd be back here as an NBA head coach, I'd say I was just hoping to get through the year at Woodland."
Clifford did return to the scene of that inauspicious debut Thursday morning, not to regale Bucksport students with tales of leading the Charlotte Bobcats to the National Basketball Association playoffs in his first year as the team's head coach, but to provide first-person evidence that youngsters from small towns can aspire to as much success in the working world as their peers from the big cities.
"Everybody's from somewhere, and success is much more determined by your personal characteristics," said the 52-year-old Clifford, whose younger brother Dan is the principal of Bucksport High School. "With the right plan and the right work ethic, you can succeed."
Clifford told the students his approach to daily work includes hoping for the best but planning for the worst, being self-motivated even on the worst days, working at something you enjoy, and that a great worker is high-work, low-maintenance.
"I learned at a young age that you want to have a personal philosophy of how you attack your job every day," said Clifford. "For coaching, one of the best things I ever heard is that if you want to coach you have to understand that a lot more things will go wrong every day than will go right, which is true.
"The other thing is the days when you wake up and are not feeling as good as you do other days, you have to find a way to motivate yourself. Most good days are going to be determined more by your personal approach than it is by others.
"Those are simple things that I think can help anybody."
For the students listening to Clifford speak, seeing was believing.
"It doesn't matter where you come from," said Josh Gray, a senior who plans to study business at Husson University in the fall. "People from little towns can do big things, you just have to put your mind into what you want to do and don't let anybody or anything stop you."
"[Clifford] put in a lot of work into what he does and it's showed," added sophomore Riley MacLeod. "He's obviously very successful now. He started coaching at a Maine high school and now he's in the NBA."
Clifford's ability to share his own priorities with his players emerged as a significant factor this season as Charlotte went 43-39 before being eliminated by the two-time defending NBA champion Miami Heat in the first round of the playoffs.
That Charlotte won more games under Clifford than it did the previous two years combined — when the Bobcats went 28-120 — stemmed in part from a talent upgrade but also was fueled by statistics that are founded in attention to detail and hard work.
The Bobcats led the NBA in both fewest turnovers and fewest fouls, and ranked sixth in overall team defense. The work ethic required to play successful defense was instilled in Clifford much earlier — from the time he began working jobs at junior high age.
Clifford went on to play basketball under his father, Gerald, at North Country Union High School in Newport, Vt., before going off to continue his playing career and study special education at UMF.
"My dad told me if I wanted to get noticed there to win every sprint in practice, so that's what I did," said Clifford, who went on to be a two-year captain and two-time defensive player of the year for the Beavers. "I tried to win every sprint, and by the time I was a junior it became contagious. Everyone was trying to win every sprint."
Clifford spent his first two years after graduating from UMF teaching and coaching at Woodland, where in his first year he guided the Dragons to their first tournament victory in 16 seasons.
Thirty years later, he remembers that win as vividly as he remembers any NBA game he's coached.
"When I was at Woodland, never did I dream of being an NBA coach," he said. "But defeating Sumner in the quarterfinals at the Bangor Auditorium was an incredible feeling. I remember Herbie Melanson hitting three straight shots from the top of the key and we went from being up one to up seven.
"It's no different from beating the Lakers at the Staples Center. It's the same feeling when you walk off the floor."
Clifford joined the college coaching ranks under longtime Maine high school and college coach Bob Brown — the father of current Philadelphia 76ers head coach Brett Brown — at Saint Anselm College in Manchester, N.H., initially as a volunteer whose tasks included selling advertisements for the team's game program.
"I had been Eastern Maine coach of the year and thought I was Bobby Knight, a genius," Clifford told the students. "I went from that to going around town selling ads.
"I talked to my dad about it, and he asked me how many pages of ads they sold last year. I told him six, and he said go out and sell 10 pages this year."
Clifford gained a paid assistant coaching job at Saint Anselm the following year, leading to several other college stops including Fairfield, Boston University, Siena and his first head coaching job at Division II Adelphi University on Long Island, New York.
There he guided the Panthers to four 20-win seasons and four NCAA tournament appearances, and it also was where he met then-New York Knicks coach Jeff Van Gundy, who visited Adelphi games and practices while the NBA was on strike for much of the 1998-99 season. Clifford went on to serve as an assistant coach with the Knicks, Orlando Magic and Los Angeles Lakers before being named Charlotte's head coach.
His first year as an NBA head coach included some individual recognition — he finished fourth in the voting for the league's coach of the year award and was named the NBA's coach of the month in April after guiding his team to seven wins in its last eight regular-season games en route to the franchise's second postseason appearance in its 10-year history.
But Clifford knows he'll have to keep working, as expectations will be higher next winter, and while he has two years remaining on his current contract, he is fully aware that the NBA is perhaps the ultimate in a results-oriented business — he has been fired four times.
"If we have a bad year next year [my brother] won't let me speak here again," joked Clifford, "and they probably won't let me speak again in Charlotte, either."
via www.bangordailynews.com by Ernie Clark