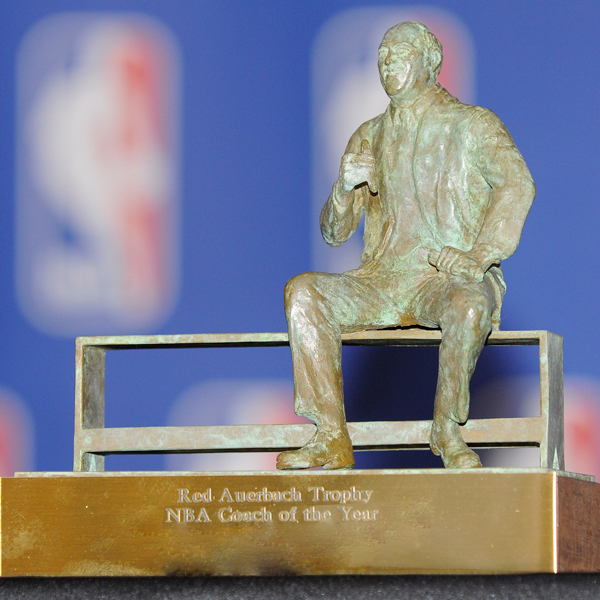 via CBSSports.com
In case you haven't noticed, we're in a Golden Age of NBA coaching.
A better understanding of analytics and the importance of a strong team culture has many teams operating with incredible precision and chemistry, which makes this season's race for NBA Coach of the Year particularly close.
This year's candidates are the usual mix of coaches with the league's best records and those who have far exceeded our expectations. Traditionally great coaches are ignored if there's no discernible improvement with the team (sorry, Steve Kerr), but this is a crop that will likely be on this list for many years to come.
With the regular season drawing to a close, we thought it would be a good time to survey the NBA coaching landscape and rank the Coach of the Year contenders. Since there were just too many candidates to fit in the top five, we also threw in an honorable mention section at the end.
2017-18 NBA COACH OF THE YEAR RANKINGS
1

BRAD STEVENS

Gordon Hayward suffered a catastrophic season-ending injury in the very first game of the season, the Celtics responded by winning 16 straight games, and Stevens' name was all but etched on the 2017-18 Coach of the Year trophy. In the months that followed Boston, as expected, deviated back to the norm (Stevens was the first to admit that they played over their heads to begin the year), but the fact that he's managed a league-leading defense and the East's second-best record will be enough to get him the award. This latest win streak without Kyrie Irving will only bolster his case, although it's not as clear-cut as it appeared to be back in November.
2

DWANE CASEY

Put some respeck on Dwane Casey's name! Raptors fans will be the first to tell you how underappreciated Casey has been over the past few seasons, but he's impossible to ignore this time around. Toronto is the only team in the NBA in the top five in both offensive and defensive efficiency this season, a feat that's been reserved for historically great teams like the Warriors and Spurs over the past few years. More importantly, Casey has adapted his team's style to fit the modern game with tremendous success, shooting almost 10 more 3-pointers and making nearly 30 more passes per game compared to last season, most likely en route to the East's top seed.
3

MIKE D'ANTONI

D'Antoni won the award last year, and the Rockets are better in every conceivable way this season … so why is he third on the list? No coach has ever won back-to-back NBA Coach of the Year Awards — like, ever. So while D'Antoni might deserve the award, it's highly unlikely that he'll win it for a second straight season even though the Rockets lead the league in offensive rating and point differential while their defense has improved from 18th in the league last year to seventh this year. If anyone could buck the trend and go back-to-back, it's D'Antoni — it's just not likely to happen.
4

TERRY STOTTS

In an absolutely loaded Western Conference, not many pegged the Blazers as a potential No. 3 seed. But that's exactly where they are, and Stotts deserves a ton of credit for turning Portland into a top-10 defense after being in the bottom-10 for the past two seasons. He's found a way to win behind his star guards and a series of interchangeable forwards who lack name recognition. He's also gotten valuable bench contributions from players like Shabazz Napier and Pat Connaughton, who were on the verge of basketball oblivion.
5

QUIN SNYDER

Nobody really knew what to make of the Jazz after they lost their best player to free agency this past offseason, but we knew better than to doubt Snyder. He's established one of the best cultures in the league over the past few seasons, and his talents have been on full display this year, dealing with multiple injuries to key players like Rudy Gobert and Ricky Rubio while grooming Donovan Mitchell into one of the most promising young players in the NBA. It seems like the Jazz haven't lost a game since January, and they could enter the playoffs as a lower seed that none of the top seeds will want to play in the first round.
To read about the Honorable Mentions, visit: NBA Coach of the Year Rankings: Stevens, Casey, D'Antoni lead incredibly deep field