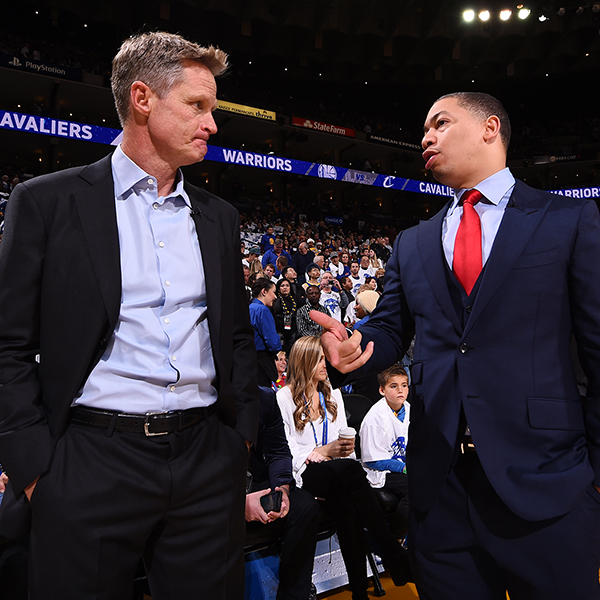 SOURCE: USA Today, Jeff Zillgitt
CLEVELAND – Golden State coach Steve Kerr learned the importance of proper work-life balance from two of the coaches he played for in the NBA – Phil Jackson and Gregg Popovich.
"When I was a player, I kind of wondered if coaches were like holed up in their office all night sleeping on the cot," Kerr said. "I wasn't exactly sure how it worked. Both those guys had such diverse interests outside of the game. You know all the stories about both of them.
"Seeing how interesting they both were and how devoted to their families they were and their kids, and how interested they were in our lives besides just what was going on in basketball, I think they really influenced me."
Health and wellness of NBA coaches is on center stage in this season's Finals between Golden State and Cleveland. For different reasons, the coaches for both teams – Kerr and Cleveland's Tyronn Lue – took time off during a season.
Kerr addressed his health in 2015-16 when complications from back surgery forced him to step aside temporarily and allow Luke Walton to coach the team on an interim basis, and last season when he wasn't feeling well, Kerr turned over coaching duties to Mike Brown during some postseason games.
Lue missed time earlier this season to focus on his health as the result of anxiety, bad diet and poor sleep.
The health and wellness of coaches is just as important as the health and wellness of players. Teams invest millions into their players and are starting to do more to make sure coaches are operating at an optimum level.
"The National Basketball Coaches Association is absolutely vigilant about the importance of proactively nurturing good health for all of our coaches, both head coaches and assistants," NBPA president and Dallas Mavericks coach Rick Carlisle told USA TODAY Sports. "It's important your health comes first. Your preparation for a season is meticulous and purposeful and once you get into it, you must have a great staff that can take a lot of pressure off the day to day demands and you have to take care of yourself."
Click here to read the official release: NBA coaches Steve Kerr, Ty Lue balance stress, pressure and health in grueling industry