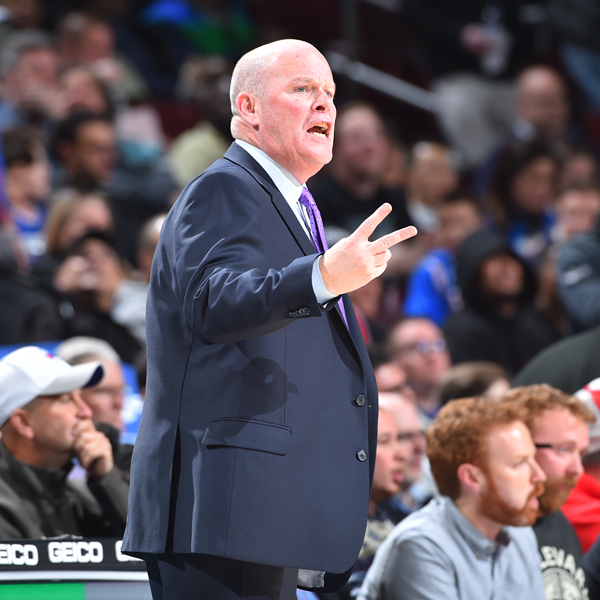 SOURCE: NBA.com, Steve Aschburner
LAS VEGAS – The stakes are low. The atmosphere, casual and relaxed. The urgency that hounds NBA coaches daily for most of the calendar year – the next play, the next basket, the next decision, the next opponent – barely makes it to town for the Summer League basketball.
"Working vacation" might be stretching it, but those guys rarely look or act more rested and content. They amble in and out of games at the two gyms on the UNLV campus. They sit up in the stands while a trusty assistant works the sideline for their teams' summer entries. And they schmooze for hours with friends and rivals, their dukes down, their motors on idle.
Six months ago, though? Six months from now? Forget it. All the demands, all the pressures, all the work undone seize up on them. It's long hours, heavy pressures, bad diets and worse habits.
"It's always in the back of your mind," Denver coach Mike Malone said. "Stress can do a lot of damage, and this job is a very stressful job."
Malone, at that moment, was filling out paperwork in advance of a free health screening set up Thursday and Friday by the National Basketball Coaches Association [NBCA]. It was a new program at Summer League this year that the NBCA intends to provide annually for head and assistant coaches, a benefit of membership in a profession that almost necessitates it.
"During the season, there's ups and downs with your health," Minnesota assistant coach Andy Greer said after his screening and results review was over. "I don't take care of myself as well as I should. In the offseason, I try to get caught up and make sure that no damage is done."
Problem is, the NBA offseason has been getting shorter while the season seems to get longer.
Several head coaches have had to step away from the grind in recent seasons: Golden State's Steve Kerr, 52, was coping with a spinal issue when he yielded to assistant Luke Walton for the first 43 games of 2015-16.
Cleveland's Tyronn Lue, 41, tapped out for 15 days this spring while suffering from anxiety and other effects of stress, including sharp chest pains that were found not be related to his heart. Lue has changed his diet, began exercising more regularly and was prescribed medication.
And new Orlando coach Steve Clifford – who had a heart scare in November 2013 that cost him only one game in his first season with Charlotte but required two surgically placed stents – got sidelined for more than five weeks on the Hornets' schedule last season by severe headaches that his doctors linked to a chronic sleep shortage.
"My body was telling me, 'You can't do this,'" Clifford, 56, said while watching his Magic squad Thursday. "When you start reading about sleep, some of the stuff can scare. Just how it affects your general health."
Said Greer, who also has served on staffs in Toronto, Chicago, Memphis, Houston and New York: "I'm going to be 56. I owe it to my family to be healthy. I had a mini-stroke one time. I've had high blood pressure and high cholesterol. I monitor it and try to do the best that I can with it. But this is awesome."
Read the official release here: With demands growing, NBA coaches game plan for better health