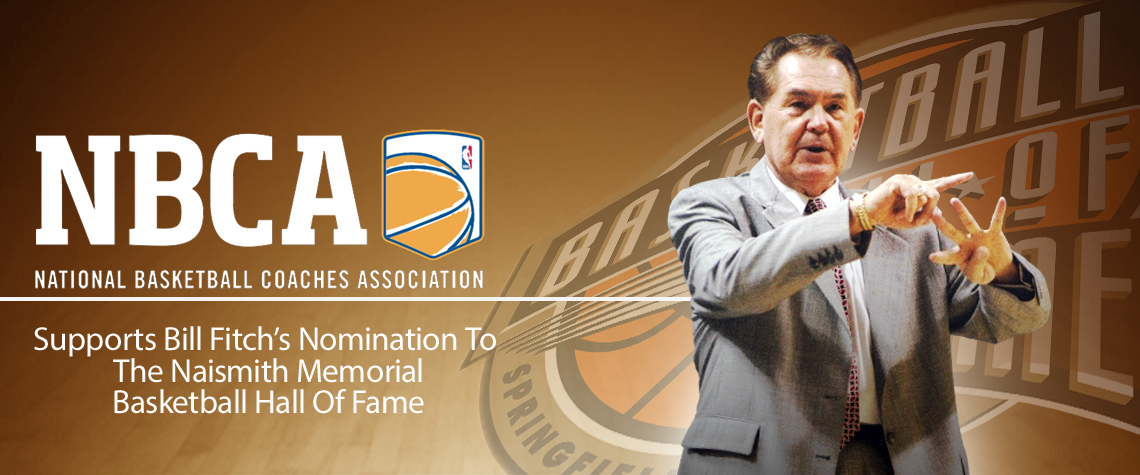 Hall of Famers Larry Bird, Larry Brown, Billy Cunningham, Don Nelson and Lenny Wilkens Among Many Coaches Who Are Strongly Calling For Fitch's Induction
New York, NY March 6, 2015 – At the recent NBA All Star Weekend in New York City, officials from the Naismith Memorial Basketball Hall Of Fame announced longtime NBA Coach Bill Fitch as a Finalist for induction into the Hall for the Class of 2015.
To support Coach Fitch for this special honor and to raise the level of awareness as to why this iconic and beloved NBA Coach clearly deserves this recognition, fellow NBA Coaches have recently issued the following statements on his behalf:
"Coach Fitch truly dedicated his life to the game of basketball. He was an early innovator when it came to the game. Most people don't know that he was a pioneer, taping practices/games and subsequently using them as teaching tools. Coach Fitch played an integral role in guiding me through the rigors of becoming a head coach."
Butch Beard – Former NBA Player and Head Coach, New Jersey Nets
Having Bill Fitch as my coach the first 4 years of my NBA career was the best thing that ever happened to me as a professional. He brought the best out of me as a player and always put me in a position to succeed on the floor. Coach Fitch was ahead of his time with the use of video to teach players and prepare for opponents. I've had some great coaches in my career, but none were better than Bill Fitch. In my mind there was never any question that he was a Hall of Famer.
Larry Bird – Team President Indiana Pacers/Hall Of Fame Inductee Class Of 1998'
"As a young NBA Coach I was lucky enough to be part of a League that had Red Auerbach, Red Holzman and Jack Ramsay as coaches. I can unequivocally state that Coach Bill Fitch's contribution to the game both on and off the court was every bit equal to those other great coaches. There was no coach that was ever better prepared for a game and had his team live up to their full potential night in and night out."
Larry Brown – Head Coach Southern Methodist University/Hall Of Fame Inductee Class Of 2002'
I had the privilege of playing for and coaching under Bill Fitch. There has NEVER been an NBA coach who has taken 5 different NBA franchises from the depths of the lottery to playoff success. Coach Fitch took Cleveland from the lottery to the conference finals in 1976. He took Boston from the lottery to an NBA Championship in 1981. He took Houston from the lottery to the NBA finals in 1986. And then, he took New Jersey and the LA Clippers – both perennial lottery participants — to the playoffs within three years of his hiring. After a career that spanned a quarter century, Bill Fitch ranks third all time in NBA games coached. With five franchise makeovers and countless Hall of Famers coached, he is certainly deserving of induction into the Naismith Memorial Basketball Hall Of Fame.
Rick Carlisle – Head Coach Dallas Mavericks/President, NBA Coaches Association
"I am pleased to acknowledge the outstanding basketball career, of Bill Fitch. Bill fits the description of a "LIFER," and someone who had a deep respect and passion for the game that rubbed off on all those who worked with or coached against him. Over an outstanding career he coached young teams, great teams, it didn't matter, he brought the same passion, work ethic and drive to help the team get better. Players consistently grew and improved on his watch. Having coached against him for several years, while he was in Houston and Boston (where he cost us a Championship) I would fully support his selection to the Naismith Memorial Basketball Hall Of Fame for the Class of 2015."
Billy Cunningham – Former NBA Player and Head Coach/Hall Of Fame Inductee Class Of 1986'
"Coach Fitch should be in the Hall Of Fame because he is one of the best coaches ever."
Don Nelson – Former NBA Player and Head Coach/Hall Of Fame Inductee Class Of 2012'
Bill Fitch is a true championship coach but he's also much more. He is Hall of Fame worthy for his record, his long body of outstanding work, and contribution to the game, as well as his willingness to take over and complete historic "rebuilding programs." He always had an incredible desire to help younger coaches find their way in a sometimes difficult profession.
Jeff Van Gundy – Lead NBA Analyst, ESPN/Former NBA Head Coach
"Over our long relationship I thoroughly enjoyed playing for Bill, talking "basketball" with him or just spending time with him around the game. Simply put, Bill was a coach who made teams better. He was also one of the hardest working coaches away from the court. A guy who spent much time in game preparation and in always trying to be a better coach. He is truly a unique "basketball man." With his resume and successes at the pro and college level, his contribution to the game, and an NBA Championship, he is someone who clearly belongs in the Hall of Fame."
Lenny Wilkens – Former NBA Player and Head Coach/3 Time Hall Of Fame Inductee Class Of 1989'
The Naismith Memorial Basketball Hall Of Fame will announce the members of the 2015 class of inductees on April 6, 2015 at The Final Four in Indianapolis, Indiana.
– Click here to view a list of Bill Fitch's coaching accomplishments