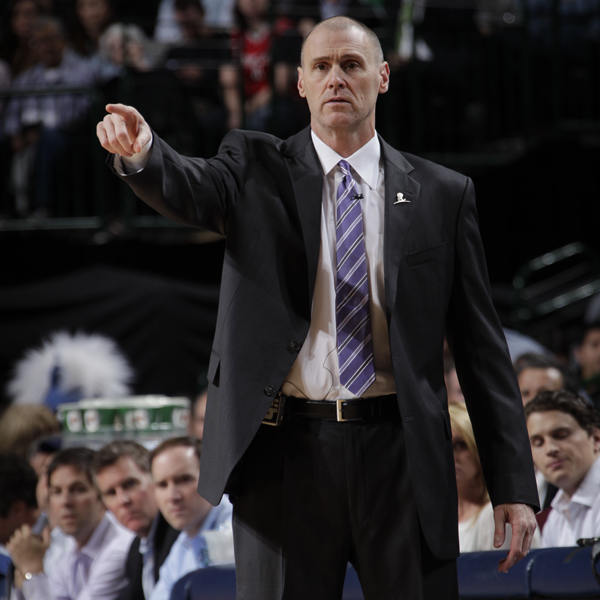 One by one they arrive, each man pulling up in his elegant sedan, sports coupe or luxury SUV and, for all intents and purposes, bringing his family, his friends, his fans — his peeps — and his digital world along with him.
In the locker room, where they dress and tease and bond and strategize, it's all about chemistry. Except when it's about technology.
"Say we have a shootaround or a team meeting that starts at 9:30. Guys start trickling in at 9:15," Denver coach Brian Shaw said the other day, talking about these modern times. "We used to come in and sit around and talk to one another face to face. Now these guys have their devices and they'll all be sitting at a table and nobody's saying anything to anybody. They're just punching buttons and looking down, and there's no interaction."
That novel about Love in the Time of Cholera? The men who oversee NBA teams are coaching in the time of social media, which might just be trickier.
Red Auerbach never had to worry about some tabloid photographer popping out of a darkened doorway to snap a photo with his date. Lenny Wilkens and Don Nelson barely stuck around long enough for cell phones. Coaches today face the full arsenal of gadgetry, as far as where their guys might turn to lose themselves or what a civilian might use to catch players unawares. TMZ, remember, pays real folding money and, after all, 15 minutes of fame is better than none.
"It's a big challenge coaching now," said Shaw, who  — when he was an NBA rookie in 1988 — needed a quarter and a glass booth if he wanted to fiddle with a phone at the Boston Garden. "There are so many more options for them, so many more things to take their attention away from what you're trying to do as coach. You have to constantly bring them back in and keep them engaged."
Twenty years have passed since Magic Johnson, in his unsatisfying 16-game stint as Lakers coach, threw Vlade Divac's cell phone against the wall after it rang during a team meeting.
Sounds quaint now.
"I feel his pain," Shaw said, chuckling. "A coach like Phil Jackson, the majority of the years that he coached, these are challenges that he didn't have to deal with. To me, the X's and O's kind of cancel each other out, between me and the coaches I'm opposing at the other end. Keeping everybody dialed in and not being distracted by outside forces — that's what the real challenge is.
"I'm contemplating making the players, an hour before practices and an hour before games, check their cell phones in. So they can't even have 'em in the locker room. It's, 'You're here. We need your undivided attention right now.' "
Been there. Doing that.
"We have rules against cell phones in the locker room after a certain point before a game," said Dallas coach Rick Carlisle, whose owner, Mark Cuban, is the king of NBA social media, at least among the Board of Governors. "If someone's cell phone goes off, the guy gets hit with a pretty hefty fine. And we all have a good laugh about it. If it happens again, we may have to have a serious discussion about it. And the fine's going to be heavier."
That's just the technology part. There's the mentality, too, which has snared players posting inappropriate photos on Instagram, embarrassed them on Vine or caught them saying something really dumb in 140 characters or less.
Two weeks ago, the Indiana Pacers' Paul George — for whom the sports world was rooting in his comeback from devastating leg fractures while with Team USA this summer — flushed a lot of that goodwill by Tweeting about the NFL's Ray Rice/domestic violence mess.
Within hours, George and Pacers president Larry Bird were issuing statements of apology.
"You hope guys make good decisions. Clearly, he made a very poor decision that he's going to hear about for quite some time," Indiana coach Frank Vogel last week. "But it's not indicative of who he is as a person."
Subtlety and nuance are in short supply in social media. NBA coaches mostly avoid the most public sites and apps, it seems. But when everyone else is walking around with a camera — and a camcorder and a voice recorder — there is nowhere to hide.
"The players are like an open book. They can't go anywhere without someone in the background [filming or taking photos]," Brooklyn's Lionel Hollins said. "I've even had it myself: Leaving a Clippers game in the playoffs a couple years ago, these fans start walking with me and one starts talking. I look up and there's one of them walking backwards, videotaping the conversation. I was like, 'I'm not talking to you guys anymore. I don't want to be on YouTube and Twitter."
Hollins spoke of a less public intrusion: "Guys at halftime come into the locker room and pick up their cell phones to see who texted 'em. What difference does it make? You can't communicate with them until after the game is over."
This is professional sports, too, not always the most PC place.
Read the full article from NBA.com writer Steve Aschburner: NBA Coaching in the Time of Social Media