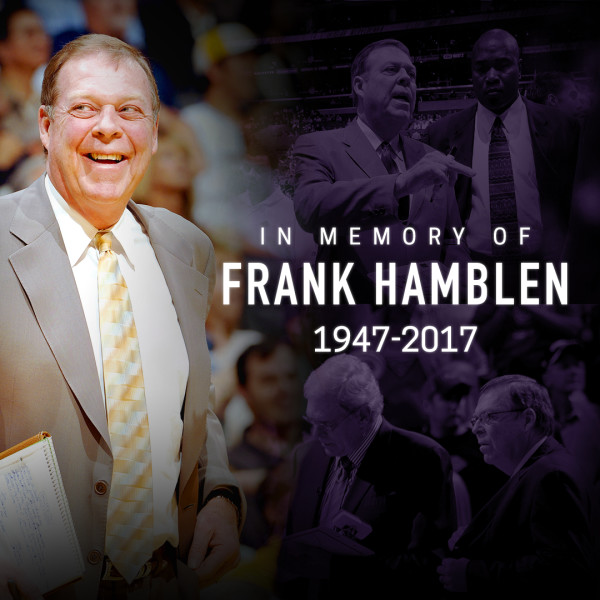 The membership of the NBCA mourn the passing of legendary assistant coach, Frank Hamblen. Coach Hamblen won seven NBA championships and was instrumental to the success of the Lakers and the Bulls as an assistant to Phil Jackson. Our thoughts and prayers go out to his family during this difficult time.
LOS ANGELES — Frank Hamblen, who won seven NBA championships as an assistant to Phil Jackson in Los Angeles and Chicago, died Saturday. He was 70.
The Lakers said Hamblen died in Del Mar. They did not provide a cause of death.
"He was my assistant coach in Chicago, a good friend and great coach. He will be missed," Warriors coach Steve Kerr said before Golden State's first preseason game in Oakland.
"He was just a good coach, good guy. I would see him in San Diego summertime. … He was funny, he was a great basketball mind. I still remember when Frank came to the Bulls we had basically the whole team back and the first day of camp Michael Jordan said, 'Our motivation this year is to get a ring for Frank.' He was new that year. He said, 'Everybody else in this room has a ring but Frank doesn't have one so we're going to get you one this year' and we did — thanks to me and Michael."
Hamblen helped the Lakers win three straight titles from 2000 to 2002 then back-to-back championships in 2009 and 2010. He also was an assistant to Rudy Tomjanovich in between Jackson's stints in Los Angeles and was briefly the head coach after Tomjanovich stepped down in February 2005.
Read the full statement here:  Frank Hamblen, former Lakers, Bulls assistant, dies at age 70