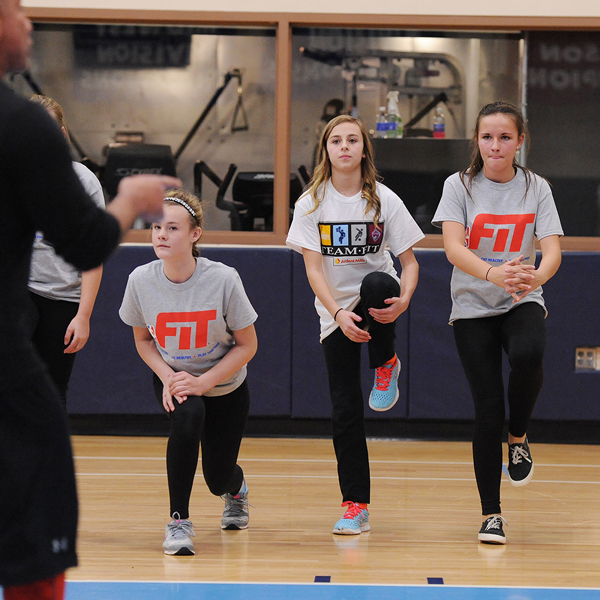 Source: Stacy Goldberg, MPH, RN, BSN / NBA FIT
NBA FIT Content
The year 2017 has come and gone, and we now embark on a glimmering New Year in 2018. Did you set health and wellness goals or resolutions in 2017? Do you even remember what they were?
Did you stick to them? Has your performance on the basketball court improved? How about your mental game?
So often, we set lofty, unrealistic intentions and place daunting responsibilities on ourselves in the new year. We soon realize that our goals were impractical for our lifestyle, and we obliterate them altogether.  It is incredibly inspiring to watch both seasoned and young NBA athletes such as LeBron James and Lonzo Ball on the court. Remember, these athletes have put in hours and years of hard work and practice to get where they are. However, they did not achieve their successes without setting realistic goals from the very beginning.
Sound familiar?  If so, it may be time to readjust your desires.
In 2018, I challenge you to simplify your life and set just one single, solitary goal. Not three, not six — just one sound, sustainable, achievable goal that you will have success with.  This could be on the court or off. It could be about your diet, your workouts, your sleep or anything else that impacts your daily life and overall basketball performance.
Stuck on which one to choose?
Here is my advice on setting your goal for a happy and healthy new year:
Start by brainstorming a complete list of your health and wellness challenges on a piece of paper or in a journal (a Spalding notebook is always inspiring for basketball fans). Write down all of the objectives you have in your brain, such as exercising regularly, gaining lean muscle, practicing mindfulness, disconnecting from technology or relieving stress. Then, circle the one that seems most imperative to you at this point in time.
Once you have arrived at your goal, write it large and bold on a piece of paper and place it in a prominent location in your home, office, car, phone or on a vision board. This will be a constant reminder for you every single day.
Make your goal a S.M.A.R.T goal. Goals should be Specific, Measurable, Attainable, Realistic and Timely. Outline specific strategies you will use to accomplish your goal, set a timeline and determine ways in which you can personally measure your own successes.
Keep a daily diary, journal or log that records the actions or activities you are taking to meet your health and fitness goals. Invest in technology to help you if needed, such as a Fitbit, or using an app such as My Fitness Pal (it's free) to track your diet and exercise. Specific technology based platforms for basketball such as ECoach may also help to support your goals, as you can receive access to the world's best NBA coaches.
Share your objectives with someone who supports and motivates you.  If you have a basketball coach, athletic trainer, strength & conditioning coach or nutritionist be sure to have them take a look at your goal. Getting their feedback can be incredibly helpful and may even help in developing your game plan to meet your goal.  This could also be a spouse or significant other, a friend, or a co-worker.  They may also have similar goals, and working together to meet them makes for a more exciting path to success.
Create a Pinterest board that helps to support your health and wellness journey. Find inspiring quotes, recipes, fitness programs, role models and any other images that spark your interest and keep you connected to your mission.
STACY'S NUTRITION SWAPS FOR A HEALTHY NEW YEAR
Here are some nutrition tips to get your 2018 game in gear. Proper nutrition plays a critical role in basketball performance and these are just a few ways you can improve your diet (and your game) this coming year.
Most restaurants offer grilled chicken in addition to breaded or fried chicken. If your favorite fast-food meal has breaded chicken, ask if you can swap it for a grilled chicken breast.  Better yet, upgrade to salmon if it is available.  Salmon as a source of muscle building protein helps to decrease inflammation and provide your body with the healthy fats it needs for brain and heart health as well as making you feel more full and satisfied.
Avoid menu items with words like "crispy," "loaded," "smothered," "supreme," "grande" or "fried." These are typically laden in oil, loaded with cheese/bacon/sour cream, covered in a fatty sauce or an oversized portion.
Order your favorite sandwich as a lettuce wrap or your burrito as a bowl to cut calories and refined carbohydrates. You can also turn your sandwich into a salad, as long as you don't load up on dressing, cheese and fried toppings.
Choose dishes that have a balance of protein, carbohydrates and healthy fats.
Replace cheese, sour cream or mayo with avocado or guacamole for a creamy texture and a boost of healthy fat.
Opt for smaller meal options or ask for a box to split your meal in half in advance — appetizer portions work well, too.
Limit the consumption of bread or tortilla chips before a meal: Ask for raw veggies to dip in guacamole or salsa rather than chips.
Click here to read the official article: New Year, New You