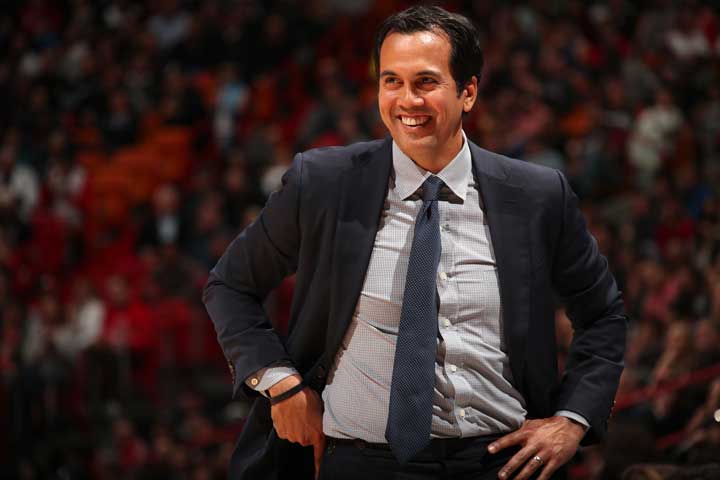 via Tim Reynolds, AP
Gone are the days when Miami coach Erik Spoelstra would spend the final few pregame moments wolfing down hot dogs while pulling on his suit jacket and hurrying to the court.
It's all different now, and more changes are coming.
Chicken fingers and coffee have been replaced by green juice and yoga, part of the reason why he's probably more fit at 47 than when he took over the Heat at 37. Spoelstra is happier and healthier — and he's bracing for an intense next few months, with the Heat chasing a playoff spot while he and his wife get ready to become first-time parents.
The baby is due around April, which is also when the playoffs start.
"Am I ready? I don't know," Spoelstra said. "We're going to find out. Been reading my books."
There are parenting books and playbooks, but nothing combines the two — though those around Spoelstra are sure he'll find the balance between baby and basketball.
"The change will be great," said Detroit coach Stan Van Gundy, the former Heat head coach and assistant coach who has remained close with Spoelstra from their time together in Miami. "I'm really, really, really, really happy for him. But certainly anybody who has raised kids, and I've had four of them, will know that you can throw all your theories out the window. My only advice would be to enjoy every day of it."
That's Spoelstra's mantra now, and an even more intense devotion to his health is helping.
To read the full article, click here: On Erik Spoelstra's mind these days: A berth, and a birth