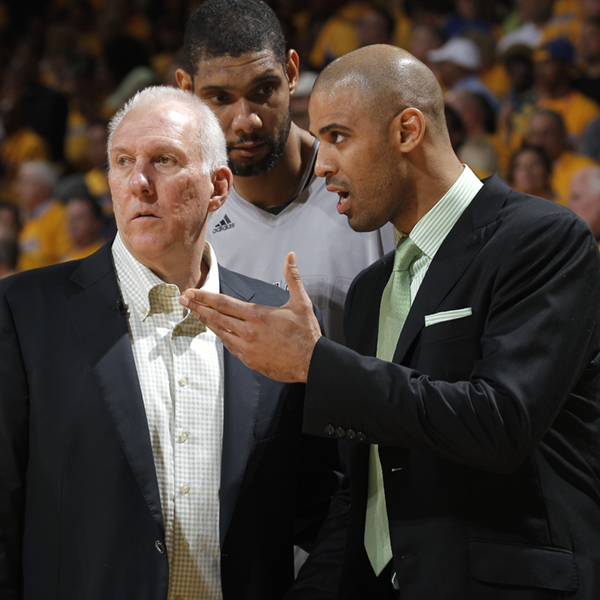 Now in his fourth year on Pop's staff and coming off a summer where he helped bring prized free agent LaMarcus Aldridge to San Antonio, Ime Udoka's notable career continues to silently trend upward. I spoke with former NBA player and coach Sam Vincent about the qualities that Udoka brings as an assistant on the Spurs bench.
Career paths are rarely open lanes to the basket; they require the same patience and development that many Spurs possessions do, with opportunities often presenting themselves in various circuitous ways. It's a notion that's even more truthful for those who join Gregg Popovich's esteemed coaching tree, where international experience and disparate perspectives help make up the fabric of his brain trust.
Ime Udoka, the well-traveled former Spur who joined the team's coaching staff in 2012, can be seen on the sidelines looking much like he did back when he donned the silver and black. His build is still rock-solid, and his stoic gaze ever-wary of detail. As part of a huddle that includes more preeminent names, his lower profile is a curiosity — as is his future as a coach in the NBA.
Sam Vincent is familiar with what makes up a successful coaching staff, as well as a strong basketball coach. An NBA champion with the Boston Celtics and former Mr. Basketball of Michigan, he made the transition from playing to coaching overseas, before working up the D-League ranks and taking on roles with the Mavericks and Bobcats. Recently his time has been split between following the NBA game in Orlando and coaching in the Middle East. He's currently in Bahrain with the club Al Manama, who have their sights set on winning the league title and advancing to the Gulf championships in Dubai.
Vincent is also uniquely familiar with Ime Udoka, whom he had the chance to coach on the Fort Worth Flyers and on the Nigerian national team between 2005 and 2006. He's stayed in touch with Ime over the years, referred to him as a role model for budding D-League prospects, and seemed a natural person to approach when I wanted to learn more about one of the Spurs' more enigmatic members of staff. He was kind enough to field my questions and give his thoughts on the Spurs, the league at large and, of course, Ime.
Read the full article via: www.poundtherock.com