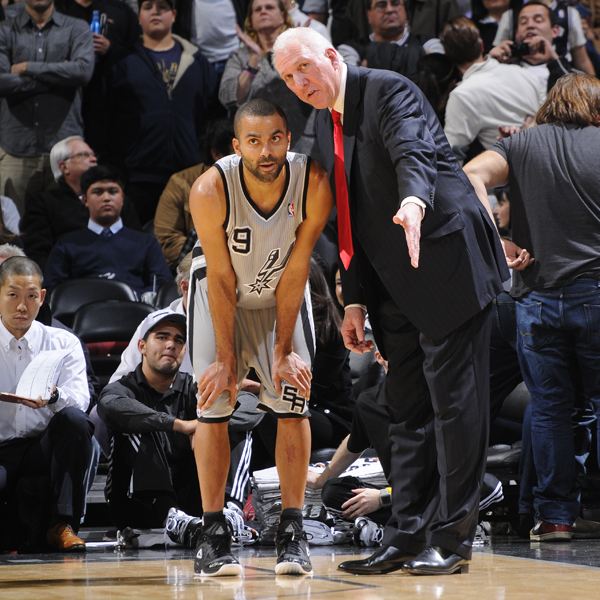 Gregg Popovich, famously curt and sarcastic, revealed one of the secrets to the San Antonio Spurs' success in a moment of candid reflection Tuesday, saying empowering his players to communicate on the court as he does during timeouts is key to getting them to make the right decisions throughout a game.
Popovich, speaking to media before a typically efficient 122-101 rout of the host Cleveland Cavaliers, said he often mines the "competitiveness and the character of the player" in shaping them into confident, productive components of the Spurs' offense.
"Sometimes in timeouts I'll say, 'I've got nothing for you. What do you want me to do? We just turned it over six times. Everybody's holding the ball. What else do you want me to do here? Figure it out,' " Popovich said, according to the San Antonio Express-News, not long before the Spurs used 14 3-pointers and a season-high 39 assists to dispatch the Cavs. "And I'll get up and walk away. Because it's true. There's nothing else I can do for them. I can give them some bulls—, and act like I'm a coach or something, but it's on them."
Popovich added that the psychological boost the Spurs get from open lines of communication "engenders a feeling that they can actually be in charge."
"I think competitive character people don't want to be manipulated constantly to do what one individual wants them to do," Popovich said, according to the Express-News. "It's a great feeling when players get together and do things as a group. Whatever can be done to empower those people."
The Spurs, despite their aging core of stars in Tim Duncan,Tony Parker and Manu Ginobili, took the Miami Heat to seven games in the NBA Finals last season and are again in position to make a deep run in the playoffs.
After Tuesday's win, the Spurs sat in second place in the Western Conference at 44-16, 1½ games behind the Oklahoma City Thunder.
Popovich said his veterans still benefit from his direction but that throwing up his hands is often the best option.
"If they're holding the ball, they're holding the ball," Popovich said. "I certainly didn't tell them to hold the ball. Just like, if they make five in a row, I didn't do that. If they get a great rebound, I didn't do that. It's a players' game and they've got to perform. The better you can get that across, the more they take over and the more smoothly it runs.
"Then you interject here or there. You call a play during the game at some point or make a substitution, that kind of thing that helps the team win. But they basically have to take charge or you never get to the top of the mountain."
via espn.go.com