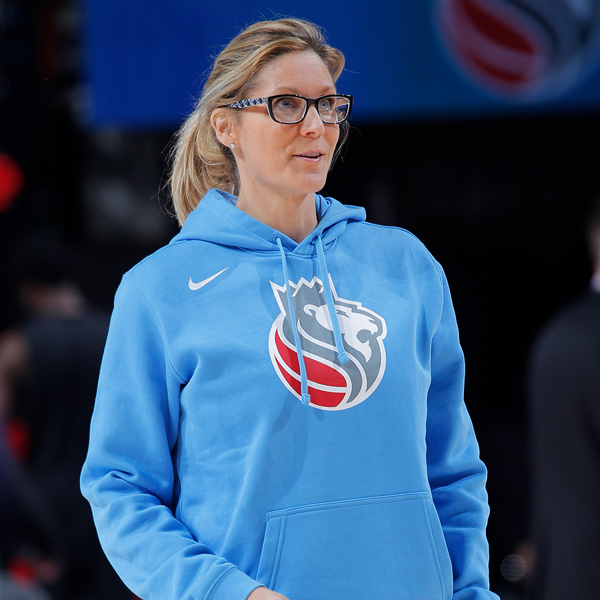 Source: Sydney Zuelke, Kings.com
This season, former Sacramento Monarchs and Seattle Storm head coach Jenny Boucek joined the Kings coaching staff, becoming the third woman to hold a coaching position in the NBA.
In honor of Women's History Month and the upcoming International Women's Day, Kings.com caught up with Jenny to discuss her basketball roots, playing in the inaugural WNBA season, role models and more.
What does Women's History Month mean to you?
"I think it is important to honor women who have made a difference. We've had so many phenomenal women who have fought battles and paved the way for women like me to have opportunities. I've been very blessed to be a Title IX baby – I was born basically the same year that law was passed. Without a lot of women going before me, I wouldn't be doing some things that I love."
Who is your biggest female role model? And why?
"I credit the women but also the men in my family. My grandfathers were men way ahead of their time that were attracted to and encouraging of strong women. Both of my grandmothers held advanced degrees and so did my mom's generation. Other than that, Pat Summit. Growing up in Tennessee, she's a legend. Everyone knows the basketball stories, but the legendary stories around our state about what type of person she was and how much she genuinely cared about people while reaching such a high level of performance shaped a lot of how I act."
What is a core value of basketball that you cherish?
"I think my favorite thing about basketball is that team sports are a microcosm of life. As a coach, it is a real unique and special platform to teach life lessons; relationship skills, handling adversity, mistake response and a lot of life skills that are very important. I've got to play and coach players from all around the world and different socio-economic backgrounds and just the conversations and relationships and growth that takes place in a intimate setting with people of all different backgrounds and beliefs has been extremely valuable and such a blessing."
To continue reading, click here: Kings Q&A: Assistant Coach Jenny Boucek