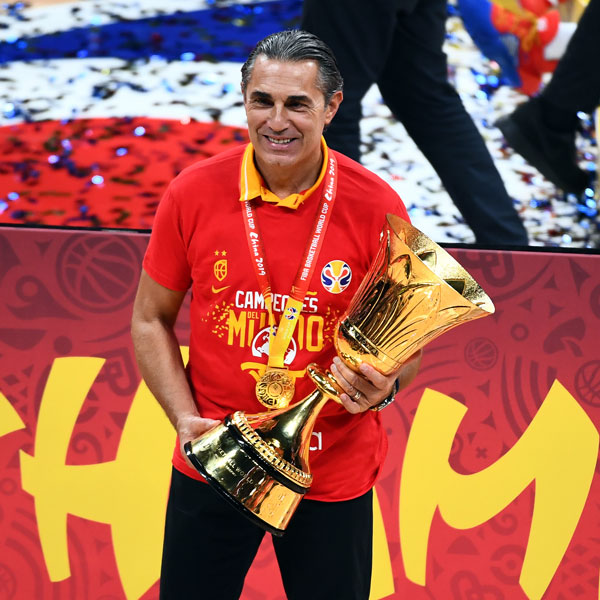 It's been an amazing 2019 for Sergio Scariolo.
The Italian was one of Nick Nurse's assistant coaches as the Toronto Raptors dethroned the Golden State Warriors to claim their first NBA title in June.
Just three months later, he has led Spain to their second FIBA World Cup title 13 years after their first.
"We were not the best, we were not the tallest, but we have worked hard to prepare for clutch moments, never losing our faith. And basketball rewarded us with a trophy we clearly deserved." – Victorious Spain head coach Sergio Scariolo
A superb defensive display allied to the offensive talents of tournament MVP Ricky Rubio and team captain Rudy Fernandez saw 'La Roja' crush Argentina 95-75 in the final in Beijing.
Scariolo said afterwards, "I have to thank my players, because they were wonderful, all of them. I had a good feeling about the game, as I realised that they had the utmost respect for Argentina and were anxious about the final.
"I also have to thank the Raptors front office for letting me be here, the Spanish Basketball Federation for allowing me to work in the NBA, as well as my family for their understanding on my absence."
The United States had won the last two basketball world titles after Spain's triumph in 2006 with the Europeans failing to reach the podium on both occasions.
But now they are on top of the world.
Click here for the full story: Coach Sergio Scariolo leads Spain to FIBA World Cup crown
Source: www.olympicchannel.com