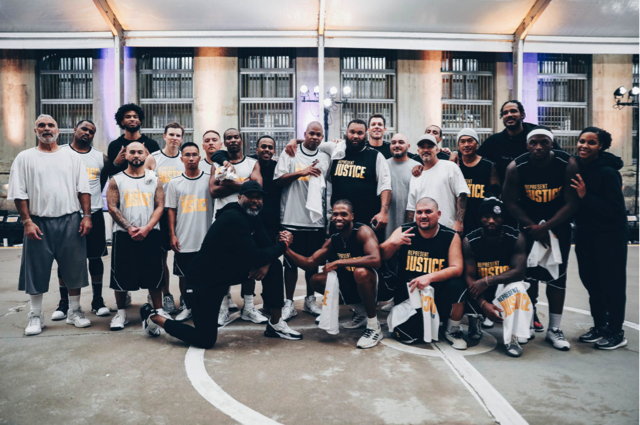 In December 2019, the REPRESENT JUSTICE Campaign tipped off a series of basketball games at correctional facilities across the country between incarcerated individuals and NBA Coaches, with Players serving as honorary coaches. The first games to take place were the Sacramento Kings (December 12, 2019) and Milwaukee Bucks (December 18, 2019), with more activations with participating NBA and WNBA teams to be announced in 2020.
Players and Coaches from the participating NBA teams also sit down for a facilitated conversation with incarcerated people and members of the REPRESENT JUSTICE Campaign, who are themselves formerly incarcerated.
The REPRESENT JUSTICE Campaign organized the Play for Justice initiative to advance the goals of uplifting narratives of hope and redemption, in order to break down stigmas associated with individuals who are impacted by the criminal justice system. The games are organized by the Campaign, in partnership with One Community, working with the Anti-Recidivism Coalition (ARC) and participating NBA teams.
Check out more at:
https://www.nba.com/kings/news/play-justice-brings-together-nba-teams-and-incarcerated-individuals-correctional-facilities
https://theathletic.com/1484009/2020/01/02/this-is-bigger-than-basketball-kings-humbled-and-grateful-for-their-visit-to-folsom-state-prison/
https://www.nba.com/bucks/news/milwaukee-bucks-represent-justice-and-incarcerated-individuals-racine-correctional-institution
https://www.nba.com/bucks/video/teams/bucks/2020/01/15/3010780/1579109784704-rep-just-final-mix-1-10-2020-3010780