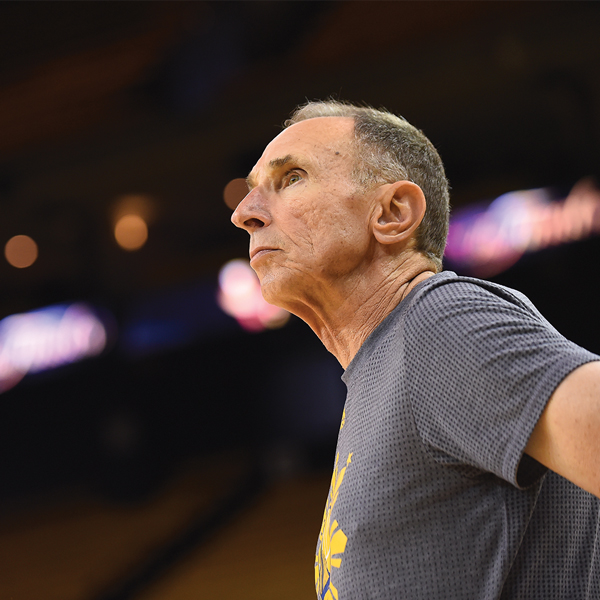 Source: Kurt Streeter, The New York Times
OAKLAND, Calif. — Out on the hardwood, toward a far corner of the gym, crouches a 70-year-old man, thin and bespectacled, with a crook in his back, a hitch in his step and braces on his wrists to protect them from bullet passes. He is drilling a quartet of Golden State Warriors, each young enough to be his grandson.
At 5 feet 11 inches, Ron Adams is in a land of giants. Methodically, he orders centers and forwards, most of them nearly a foot taller, through defensive maneuvers and a shooting workout. His boss, Steve Kerr, eyes him intently, then smiles like a gambler admiring someone who is beating the odds. "I could watch him run drills all day," Kerr says. "Seventy years old and still at it!"
Adams was in his mid-60s when Kerr, the Warriors' head coach, hired him away from the Boston Celtics, where he was the lead assistant coach. What Kerr wanted was a venerable wise man, someone who had coached for decades but had no real desire to be promoted. Someone who would thus be free to speak his mind — like Tex Winter, who was Phil Jackson's assistant in the 1990s when Kerr starred on the Chicago Bulls' championship-winning teams.
In the summer of 2014, Kerr took Adams to dinner at A16, a trendy, red-brick restaurant in Oakland. Adams, who reads literature and poetry and likes fine wine, ordered a bottle of pinot noir for the table. The waiter poured a bit for him to try. He swirled it in his glass and took a sip. "That tastes nothing like a pinot," he said, insisting the waiter bring another bottle.
"He sent the wine back!" Kerr recalls. He chuckles at the memory. "Ron is the first and only guy I have ever seen who sent the wine back!"
"I'm thinking," he adds, with an expletive for emphasis, "'Who is this guy?'
"I wanted a truth-teller, somebody to tell me, 'You gotta do this, and you gotta do that,' completely unfiltered," Kerr says. "Somebody whose experience and wisdom made everyone stand up and listen. I knew right then that we were talking to the right guy, and I'm just thankful we have him because he's been instrumental in all that we've done.
"Ron Adams, he's our Tex."
To continue reading, click here: The Warriors' 70-Year-Old Truth-Teller