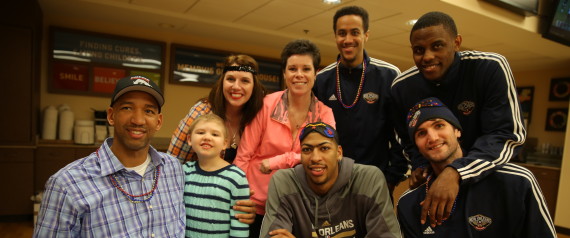 From my vantage point, I think that the sports world does a very good job of recognizing the sacrifices made by members of the military. And it's more than what you see on the court when watching at home or from the stands.
After becoming the head coach of the New Orleans Pelicans — back then we were the Hornets, the organization helped me reach out to families with loved ones stationed around the world through a variety of relationships and as part of the league's Hoops for Troops program. We would host families at our games, arrange for them to meet the players and join us in the locker room. Basically, we provided them an all-access pass for a sneak peek at game day. We spoke with the family members and shared our gratitude for their sacrifice. And when the service men and women return home, it's great to invite them to a game along with their families so the experience can come full circle.
It's a great thing to do — and something we'll continue to do — but I believe we can take a next step by working side-by-side with the military to better our communities.
It should be a given. The members of our military are some of the most highly skilled and motivated individuals in our country. When they return home, the transition can be a challenge and I think, as civilians who benefit every day from the work of our armed forces, we should seek out opportunities to work together.
My upbringing gave me a background and reference point for what the military go through. My dad was in the Air Force. My grandfathers were both in the armed forces. My uncles were in the army. I had cousins in the Air Force and Army. Just about all of the men on my mom's side and some of the men on my dad's side were involved in the military in some capacity. And it's their service that has provided me with the opportunity and resources to pursue my path in athletics. For that, I am grateful — because I know it doesn't come easy.
I remember hearing stories about my uncle. When he returned home from combat, it was an adjustment. Sometimes the woods of Virginia where we lived would serve as a trigger and, next thing you know, he'd be visualizing himself in the jungles of Vietnam. It was a tough time and one of the reasons I feel so passionately about this transition back to civilian life.
As an assistant coach for USA Basketball, I was pleased to learn that [USA Basketball National Team Managing Director] Jerry Colangelo and Coach K were very involved in this area. Together with Chairman of the Joint Chiefs of Staff, General Martin Dempsey, USA Basketball and the NBA are working on a program called Commitment to Service, which focuses on transition, community, leadership and health.
This Veterans Day, NBA teams will partner with nearby military bases to carry out a variety of community service projects. It's a great way to take that side-by-side, teamwork approach to identify local needs and coordinate projects that address them.
Although they are on vastly different scales, there are certainly some distinct parallels between sports and military. You are both working toward something bigger than yourself and the only way to do it is to come together. It will be great to see members of the NBA family team up with those in the military who have returned home to work on giving back to those in need and making our communities stronger.
This blog post is part of a series produced by the NBA in conjunction with NBA Cares Week. To see all the posts in the series, visit Huffington Post's Impact Sports page, which covers the intersection of sports and social good. For more information about NBA Cares Week, visit here.