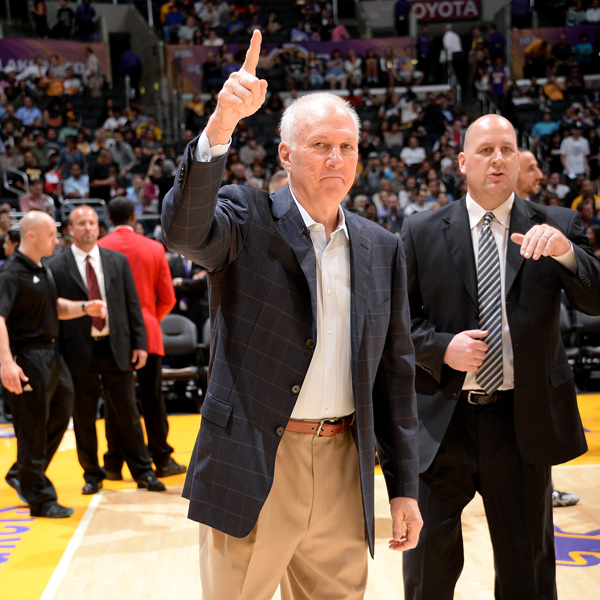 Among the donors to the multimillion-dollar fundraising campaign that will renovate Butler's 86-year-old Hinkle Fieldhouse is a four-time NBA championship coach with no discernable ties to the university.
But, as Gregg Popovich notes, he forever remains a Hoosier at heart.
"I'm an Indiana boy," said the head coach of the San Antonio Spurs, among several donors to Butler University's Hinkle Campaign that raised more than $17 million in an effort to preserve the national historic landmark and improve an aging interior.
"It's a one of the true cathedrals of basketball," Popovich said Monday before his NBA-best Spurs faced Indiana. "If you're from Indiana, you have to love Hinkle Fieldhouse."
As a gesture from the Butler athletic department, Popovich and his Spurs team were invited to hold their morning shootaround at Hinkle Monday morning. Popovich elected to have shootaround instead at Bankers Life Fieldhouse in order to keep his team close to their downtown hotel. The Spurs will play for the third time in four nights Monday.
"We've practice there before," he said. "We just couldn't make it work because of a few things."
Popovich invited a handful of Butler administrators and season-ticket holders to observe the shootaround and spoke with them afterword. He spoke of childhood memories of attending high school state tournament games at Hinkle Fieldhouse and his love for basketball in his home state of Indiana.
"I was never good enough to play there, but I definitely remember watching," he said.
Popovich, a native of Merrillville, Ind., did not attend Butler but the Air Force Academy, where he played four seasons, was team captain and leading scorer his senior year. He was elected to the Indiana Basketball Hall of Fame in 2009.
The university announced in November that it had received contributions from all 374 student-athletes on its 19 teams and all 68 coaches and athletic staff members. The new-look Fieldhouse will have wider concourses, 5,000 chairbacks, more handicap seating, handrails and new bathrooms.
Capacity, athletic director Barry Collier said recently, will dip from 10,000 – where it has been for the past few seasons – to roughly 9,100.
Renovations are expected to be finished by Nov. 1, Collier said. Also included will be a redone weight room and academic center as well as brand new coaches' and administrator's offices. A video room inside the new men's basketball suite will be named for Gordon Hayward, a former Butler standout now with the Utah Jazz, after he made a significant contribution to the campaign in 2012.
Here are few images of what the renovations will look like come this fall [dopwgg id="29″]
via www.indystar.com