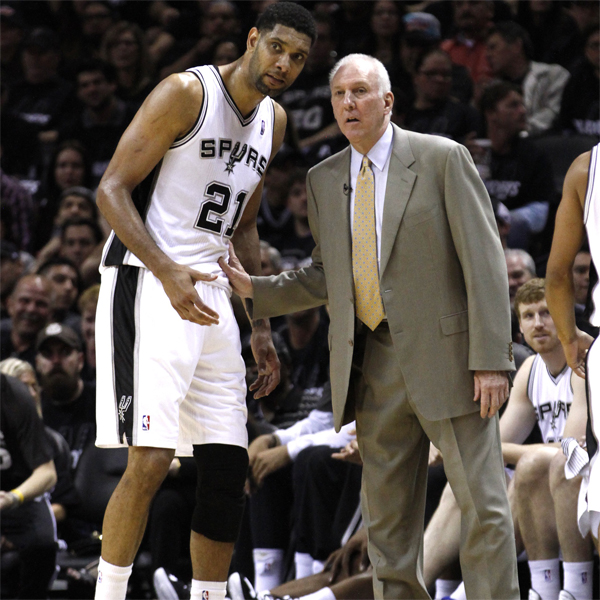 NEW YORK — The San Antonio Spurs' Gregg Popovich is the recipient of the Red Auerbach Trophy as the 2013-14 NBA Coach of the Year, the NBA announced today. Popovich's Spurs posted the league's best record at 62-20 (.756), which provides them with homecourt advantage throughout the postseason.
Popovich, who wins his second NBA Coach of the Year award in the past three seasons and third of his career, joins Don Nelson and Pat Riley as the only coaches to receive the honor three times. He totaled 380 points, including 59 first-place votes, from a panel of 124 sportswriters and broadcasters throughout the United States and Canada. Coaches were awarded five points for each first-place vote, three points for each second-place vote and one point for each third-place vote. The award voting was tabulated by the independent accounting firm of Ernst & Young LLP.
The Spurs were the only team to record 30-plus wins both at home (32-9, .780) and on the road (30-11, .732), and their 38-14 record against conference opponents tied for the best mark in the league (Indiana Pacers). San Antonio led the NBA in points per game differential at +7.8, having averaged 105.4 ppg while giving up just 97.6 ppg.
2013-14 marked the 15th consecutive season that Popovich's Spurs posted 50 or more wins, and the fourth time in that span that the team tallied 60-plus victories. San Antonio recorded a 19-game winning streak — tied for fifth-longest in NBA history — between Feb. 26-April 2.
Popovich presided over a balanced roster which featured no player who averaged 20-plus points, nor 30-plus minutes, with Tony Parker's 16.7 ppg and 29.4 mpg leading both categories. He ended the 2013-14 campaign with 967 regular season wins, good for ninth on the all-time list.
The Coach of the Year Award is named after legendary coach and Hall of Famer Red Auerbach who guided the Celtics to nine NBA Championships. In 1996, Auerbach was honored as one of the Top 10 Coaches in NBA History as the NBA celebrated its 50th anniversary.
For the first time this season, complete media voting results for each NBA annual award will be posted on nba.com/official following the announcement of each winner.
> For complete ballot results, click here [PDF link] >>>
via www.nba.com