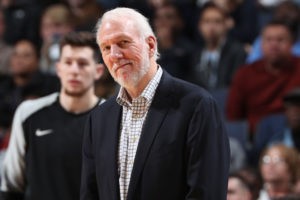 Air Force's team captain in basketball from 1970 will headline this year's academy Athletics Hall of Fame class.
You may have heard of him.
Gregg Popovich — Pop — has gone on to win five NBA titles with the San Antonio Spurs as one of the most successful coaches in American sports history. His career launched with the Falcons, where his 54.1 career shooting percentage still ranks all-time and where he spent six seasons as an assistant coach.
Popovich is part of a banner class that will be inducted May 4 at the academy's Arnold Hall Ballroom. The class includes football All-American Chris Gizzi, hockey All-American Eric Ehn, the 1985 football team that won the Western Athletic Conference, wrestling coach Wayne Baughman and volleyball standout and Rhodes Scholar Delavane Diaz.
Popovich ranks behind only Lenny Wilkens and Don Nelson in victories among NBA coaches. The Spurs have had winning records in each of his 21 full seasons as coach.
Click here for the full story: Legendary NBA Coach Gregg Popovich Highlights Air Force Hall of Fame
Source: www.gazette.com