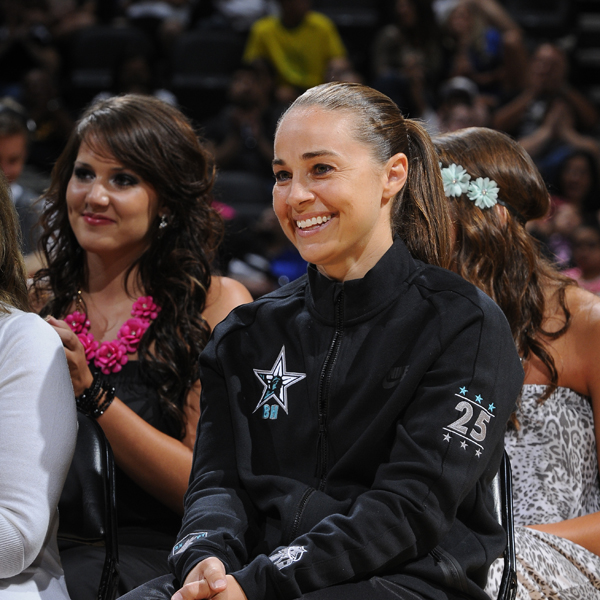 The San Antonio Spurs today announced that Becky Hammon has been hired as an assistant coach. Per club policy terms of the contract were not announced.
Hammon, who is currently in her 16th WNBA season, announced on July 23 that she would retire as a player at the conclusion of the 2014 season. Named one of the WNBA's Top 15 Players of All-Time in July of 2011, Hammon ranks seventh in WNBA history in points (with 5,809), fourth in assists (1,687) and sixth in games (445).
"I very much look forward to the addition of Becky Hammon to our staff," said Spurs Head Coach Gregg Popovich. "Having observed her working with our team this past season, I'm confident her basketball IQ, work ethic and interpersonal skills will be a great benefit to the Spurs."
A six-time WNBA All-Star, Hammon has spent the last eight seasons with the San Antonio Stars. She is the Stars all-time leader in assists (1,112) and three-point field goals made (493) while ranking second in franchise history in points (3,442) and games (218). In 2012 Hammon was the top vote getter for the Stars All-Decade Team.
In her WNBA career Hammon has appeared in 445 regular season games, averaging 13.1 points, 3.8 assists and 2.5 rebounds in 28.0 minutes. She has earned All-WNBA First Team honors twice (in 2007 and 2009) and was named to the All-WNBA Second Team in 2005 and 2008.
A three-time All-American at Colorado State, Hammon went unpicked in the 1999 WNBA Draft. She signed with the New York Liberty in May of 1999 and spent eight seasons with the Liberty before being traded to the Stars in a draft night deal in 2007.
MEDIA AVAILABILITY: Becky will hold a media session today at 3 p.m. at the Spurs practice facility.