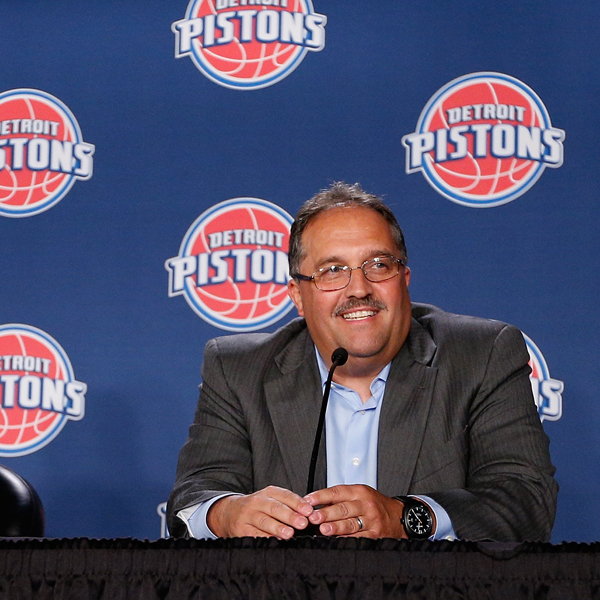 AUBURN HILLS, Mich. (AP) — The Detroit Pistons are counting on Stan Van Gundy to bring some much-needed stability to a struggling franchise.
They're certainly giving him plenty of authority.
The Pistons officially announced Van Gundy's hiring Wednesday as their new coach and president of basketball operations. The team will introduce Van Gundy at a news conference Thursday. Detroit went 29-53 last season, missing the playoffs for a fifth straight year. That was the end of Joe Dumars' tenure as team president. Coach Maurice Cheeks was fired in February.
"Stan is a proven winner in our league," Pistons owner Tom Gores said in a statement. "He instills his teams with passion, purpose and toughness. He is a great teacher who will help our players grow and develop."
Van Gundy agreed to a $35 million, five-year contract – a commitment from the team that suggests he'll have plenty of time to turn Detroit's fortunes around. Dumars stepped down after 15 seasons in the front office, and toward the end of his tenure, the Pistons seemed increasingly adrift as they hired coach after coach with little success.
Cheeks lasted less than one year. Before him, Lawrence Frank and John Kuester were each at the helm for two seasons.
Van Gundy is 371-208 in seven-plus seasons as a coach with Miami and Orlando. He reached the NBA finals in 2009 with the Magic.
"It is an honor to be chosen to help Tom Gores build the Pistons into a team that competes for championships," Van Gundy said. "Tom's vision of building for the future, while seeking immediate improvement is a challenge that I embrace. We will work to put a team on the floor that reflects the franchise's rich tradition and embodies the toughness and work ethic of fans in the Detroit area."
The Pistons were active last offseason, signing free agent Josh Smith and trading for point guard Brandon Jennings. Amid heightened expectations, the new-look roster flopped. Cheeks was fired and replaced by interim coach John Loyer.
Van Gundy takes over now – and he'll have a chance to reshape the lineup before he has to coach it. Greg Monroe is a restricted free agent, and both Rodney Stuckey and Charlie Villanueva are unrestricted. Villanueva barely played last season, but Monroe and Stuckey were major parts of Detroit's rotation.
The Pistons have one of the game's top young big men in Andre Drummond, but they'll lose this year's first-round draft pick if it's not in the top eight – part of a previous trade with Charlotte.
Van Gundy gives the Pistons a big name – and the hope that he can produce won-loss records similar to his time in Miami and Orlando. It will be a fresh start for Van Gundy, who was fired by the Magic in 2012 after a season full of drama involving him and star center Dwight Howard.
In April of that year, Van Gundy claimed top-ranking team officials had told him that Howard had asked management to fire Van Gundy as a condition of the center signing a long-term contract. Howard denied it.
Van Gundy was fired the following month, and the Magic traded Howard to the Los Angeles Lakers.
Before the tumultuous 2011-12 season, Orlando won at least 52 games in its first four seasons under Van Gundy.
"Stan is more than just a great coach, he's a great leader," Gores said. "What I'm most excited about is how Stan can help us shape the franchise and instill what it means to be the best. He's also a great communicator. My time with Stan has me convinced that he will bring our players, team and community to a very proud place."
via www.nba.com