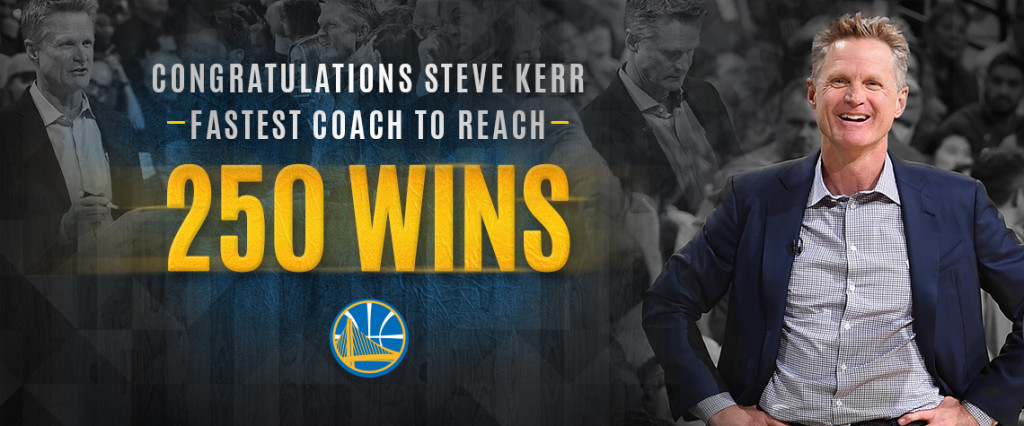 Source: Chris Haynes, ESPN
OAKLAND, Calif. — Steve Kerr became the fastest coach to win 250 games after his team defeated the San Antonio Spurs 122-105 on Saturday night.
The Golden State Warriors head coach reached the 250 career mark in just 302 games, 44 faster than Phil Jackson's previous record. It's also the fewest games to 250 wins for any coach in the four major American professional sports leagues.
In his postgame address, Kerr downplayed his role in the feat.
"It just means that I inherited a hell of a team," Kerr said. "An amazing, talented group of players."
Draymond Green was asked what Kerr's accomplishment means.
"It means he's got some good players," he replied in jest. "Nah, I'm just playing. That's incredible. Obviously, Steve never had any coaching experience, and to accomplish something like that says a lot. I think with the continuity that he brought to the organization, not only on the basketball court but just in the culture, has made a difference, and that's why we've been able to have the success that we've had."
Kerr became the fourth Warriors coach to secure 250 career victories, joining Al Attles, Don Nelson and Eddie Gottlieb. Luke Walton, former Warriors assistant and current head coach of the Los Angeles Lakers, won 39 of those games when Kerr was sidelined for a period of time during the 2015-16 season.
To continue reading, click here: Steve Kerr becomes fastest coach in American sports history to 250 wins