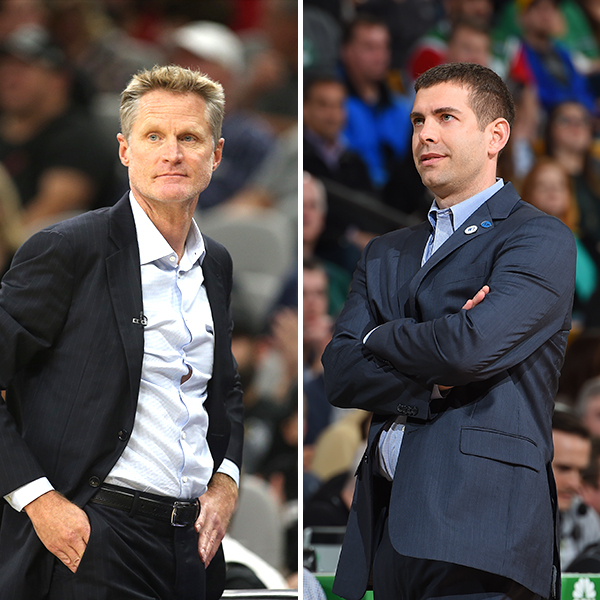 When Steve Kerr first met Brad Stevens, he already had a good feeling about the Celtics' coach.
"You could just tell he got it," Kerr told Boston.com.
The pair's initial meeting was actually before either were coaches in the NBA. Kerr, who worked as a broadcaster prior to becoming head coach of the Golden State Warriors, had lunch with Stevens in Indianapolis during the 2010 NCAA men's basketball tournament. Stevens was head coach of the Butler Bulldogs at the time.
"I liked him immediately because of his demeanor," Kerr recalled. "Not only could you tell he was very intelligent, but he also had a high EQ [emotional intelligence]."
Kerr said Stevens had asked him a few questions about the NBA because the 33-year-old had begun thinking about possibly transitioning to the pros. And he couldn't have asked for a better brain to pick. Kerr boasted extensive NBA experience even before joining the Warriors, having played 16 seasons — with five rings to boot — and worked as the general manager of the Phoenix Suns.
The Celtics ended up hiring Stevens in 2013 — just a year before Kerr began coaching Golden State. Although their teams are in different conferences, Kerr says Stevens is "one of the best coaches in the league."
"I'm amazed at how good he is," Kerr said. "Not just because he has impressive plays, but because of the way he handles his team, the league, and the media."
The two will meet again on Nov. 16 at the TD Garden, when Boston hosts Golden State for an 8 p.m. contest. One lucky fan can earn the chance to meet the two coaches at a pregame reception before watching the game from five rows behind the Warriors bench. To enter, fans must donate $10 to the Positive Coaching Alliance, which is a nonprofit dedicated to the development of athletes, coaches, and parents.
"This is a once-in-a-lifetime opportunity for a fan and a guest to hear two of the best coaches in the game talk about the importance of competition, respecting your rival, and the life lessons learned through sports done right," said PCA founder and CEO Jim Thompson in a press release.
The game matches the defending NBA champions against the Celtics and their new point guard Kyrie Irving, who battled Golden State in the three most recent NBA Finals.
To read the full article, click here: Steve Kerr calls Brad Stevens 'one of the best coaches in the league'