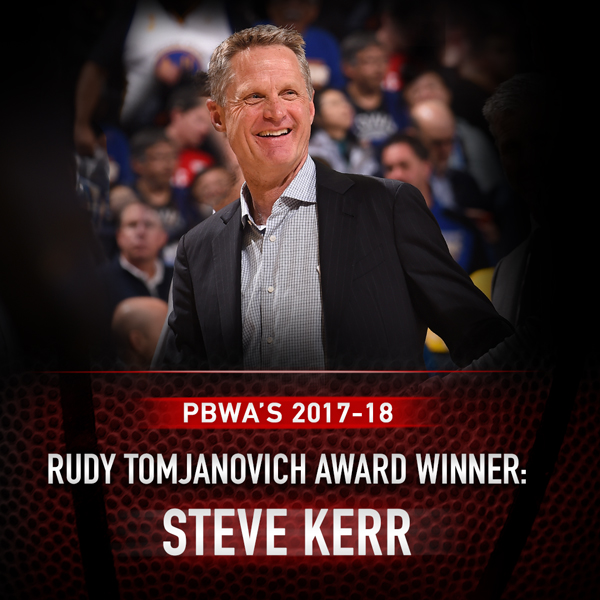 Source: ESPN
Golden State's Steve Kerr has won the Rudy Tomjanovich Award, given to an NBA coach in recognition of his cooperation with media and fans as well as excellence on the court.
The Professional Basketball Writers Association announced the winner Tuesday. The award is named for Tomjanovich, the former Houston Rockets coach.
Kerr, who also won the award in 2015, beat fellow finalists Brad Stevens of Boston, Mike D'Antoni of Houston, Doc Rivers of the Los Angeles Clippers and Steve Clifford of Charlotte in voting by PBWA members.
The Warriors have won two of the past three NBA titles under Kerr and have a 2-1 lead over Houston in the Western Conference finals. The PBWA said Kerr encourages players to express themselves and is generous with his time with the working press.
2010-11: Jerry Sloan, Utah Jazz
2011-12: Doc Rivers, Boston Celtics
2012-13: George Karl, Denver Nuggets
2013-14: Frank Vogel, Indiana Pacers
2014-15: Steve Kerr, Golden State Warriors
2015-16: Dwane Casey, Toronto Raptors
2016-17: Stan Van Gundy, Detroit Pistons
2017-18: Steve Kerr, Golden State Warriors
Click here to read official article: Warriors' Steve Kerr wins Rudy Tomjanovich Award for second time