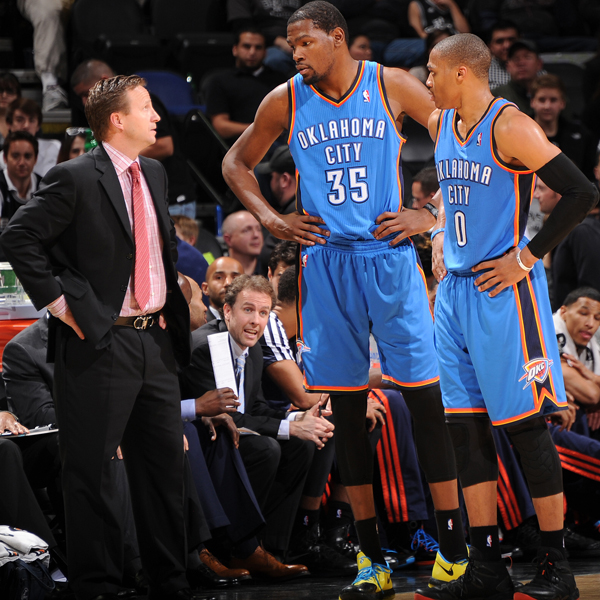 HANG TIME NEW JERSEY – When you think of the Oklahoma City Thunder, Kevin Durant's scoring comes to mind first. He leads the league by a wide margin, after all. But the Thunder have been a better defensive team than offensive team this season. Heading into Thursday's matchup with the Heat, they rank sixth in offensive efficiency and third in defensive efficiency.
To be a true title contender, you have to be good on both ends of the floor, and the Thunder are the only team that has ranked in the top 10 in both offensive and defensive efficiency each of the last three seasons.
That's a credit to head coach Scott Brooks, who spoke with NBA.com for a few minutes at All-Star weekend in New Orleans.
NBA.com: When looking at teams, I usually evaluate their offense and defense separately. Do you look your offense and defense like that, or is there more a relationship between the how well you play offensively and how well you play defensively?
Brooks: I look at it in a bunch of dimensions. One, I look at it as strictly an offensive team and a defensive team. And I look at it combined, hand in hand. I believe you have to be able to be a be a two-way team in order to have success. Especially in the West, there are so many great teams.
And that's the thing I take pride in. I know there are so many times when we have to focus on defense, defense, defense, and there are holes. We have to try to repair it. And we do that and the offense becomes stagnant, and you try to fix that up. That's just part of coaching. You have to find balance, fix the problems as you see them, and try to envision problems before they even happen.
NBA.com: We always think that good defense leads to better offense, but I once asked Jerry Sloanhow his team could get better defensively, and he said it started with better floor balance on offense. For your team, does one end of the floor help the other more than vice-versa?
Brooks: We say that the start of good defense is a good shot. Also, we say that the start of a good offense is a rebound off a miss. So they go hand in hand. Our guys really believe that. They've done a good job of focusing on making teams miss and trying to score in transition before the defense is set. And then, focusing on getting a good shot and having good floor balance, so you can get back in transition and get set before the offense attacks you.
NBA.com: Do you value certain things defensively more than others? Do you care about forcing turnovers?
Brooks: I don't look into forcing turnovers. If we're in a defensive mind set, we're going to get our fair share of steals. I'm really concerned about making sure that every shot is contested. For basketball players on all levels, it's proven that if you're shooting contested shots, you have less of a chance of making them. So we focus on that. And we focus on making sure we rebound. Our rebounding numbers have gone up the last few years.
Thunder defense, last four seasons

DefRtg = Points allowed per 100 possessions
OppeFG% = Opponent (FGM + (0.5*3PM)) / FGA
DREB% = Percentage of available defensive rebounds obtained
OppTOV% = Opponent turnovers per 100 possessions
NBA.com: Defense has been a big part of your bench success. Your best defensive numbers have been with your reserves on the floor. Is that just about them playing against other reserves, or is there more to it than that?
Brooks: We have some toughness on our bench. There's no question. I think people don't give our toughness, as a team, enough credit. They don't look at guys like KD and say "That's a tough guy." He's so athletic. He's slender. But he's tough.
With our bench, we feel that [Derek] Fisher, [Nick] Collison, Reggie [Jackson], Jeremy [Lamb], Steven [Adams], and Perry [Jones] bring that type of toughness. Obviously, when you're going against the other team's bench, that kind of negates the difference. But I think our bench has done a good job.
I try not to really look at our team as two units. I know, as a player, it kind of bothered me that … "Hey, bench guys go over there and shoot" or first team and second team and all that. If you're going to talk about the first team and second team, don't talk about "team" to me. That was kind of my mind set as a player.
So I look at our group as a team and with the flexibility that we have, we can mix and match our starters and the guys that come off the bench and form a pretty good unit.
NBA.com: On that note, your defense has been very good (in 234 minutes) with Russell Westbrookand Jackson on the floor together. Does your defense start on the perimeter or on the interior?
Brooks: That's a question that I go back and forth on. I come up with the conclusion that all five guys have to be engaged. We have to have Serge [Ibaka] and [Kendrick Perkins] ready to protect the paint. We have to have Russell, KD and Thabo [Sefolosha] ready to man the perimeter. I think both perimeter and interior guys have to be ready to play. There are too many skilled players in this league to relax at one position.
NBA.com: And when Russell and Reggie are on the floor together, can you be more disruptive?
Brooks: I haven't really dove into those two playing together. That's something that we can always go to. I like it more as an offensive unit, because Reggie gives us a third penetrator.
You just have to understand who they can guard. Russell can guard just about any guard in this league. And Reggie, you have to be able to pick and choose who he can guard. One of them's going to have to guard a bigger guard. Some of the guards in the league don't post up, but some do.
via www.hangtime.blogs.nba.com by John Schuhmann