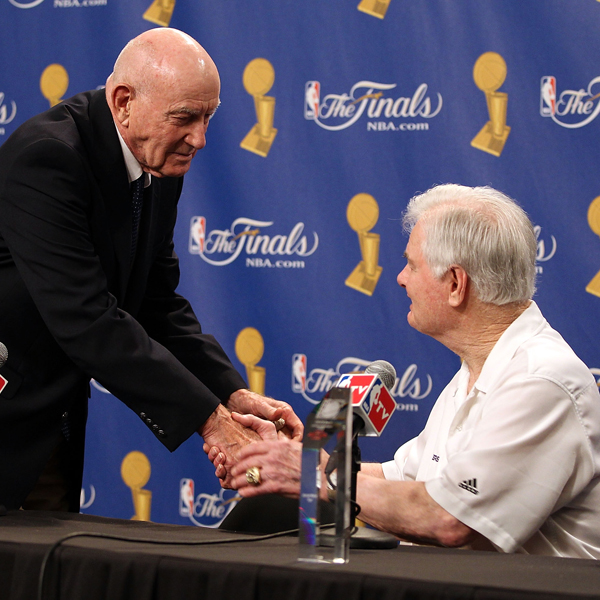 LOS ANGELES – Triangle offense guru Tex Winter and legendary coach and basketball commentator Dr. Jack Ramsay shared the Chuck Daly Lifetime Achievement Award, handed out before Game 2 of the NBA Finals Sunday night at Staples Center.
Dallas Mavericks coach Rick Carlisle, president of the NBA Coaches Association, was on hand to deliver the award to the coaching giants. Tommy Heinsohn received the inaugural award named in of Daly, who won back-to-back championships with the Detroit Pistons and coached the Dream Team to an Olympic gold medal during his Hall of Fame career. Daly died last year of pancreatic cancer.
"I'm honored to receive this award," Ramsay said. "Chuck was a special guy in het way that he coached, the way that he dressed, the way that he got his teams to play the game that he wanted them to play, without an overbearing presence on the team. I think it's very fitting that the coaches association has named an award in his honor. And I'm especially fortunate and honored to receive this award … and I'm honored to share this honor with Tex."
Ramsay guided the Portland Trail Blazers to the NBA title in 1977 and remains one of the game's global voices for his work as a coach and broadcaster. The offensive architect for nine title teams under Phil Jackson, six in Chicago and three with the Lakers, Winter received a 10th ring from the Lakers after they won the 2009 title (below).