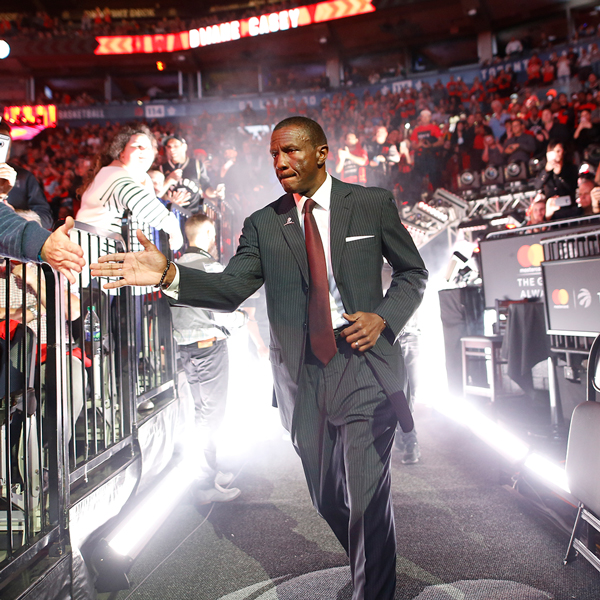 Source: The Star
Dwane Casey spent seven years as head coach of the Toronto Raptors, leading the club to a 320-238 record, four Atlantic Division titles and three straight 50-win seasons, including a franchise-record 59 this season. On Friday, the team announced it was parting ways with the 61-year-old following a third straight playoff loss to the Cleveland Cavaliers. Casey reached out to the Star with a message to the city and Raptors fans everywhere:
Dear Toronto,
Thank you.
Thank you to basketball fans across this city and the country of Canada who supported the Raptors and welcomed my family with open arms during our seven years here. Thank you to all the fans who cheered us on at the Air Canada Centre while we built this program into a playoff contender, packed Jurassic Park even in the cold and rain, watched the games from home and offered their undying support as we traveled this road to relevancy together.
Thank you for teaching our all-American family the Canadian way. That being polite and considerate to one another is always the best way. That diversity is something to be embraced and celebrated. That taking the time to learn about each other's cultures is the surest way to find common ground and understanding. Thank you for making our children feel safe, valued, and comfortable in their own skin. We cannot express how important it has been to build the foundations of who our children are as human beings in a country that shows through its words, actions and laws that all people deserve basic human rights, and a chance to reach their goals through education and hard work.
Thank you to Larry & Judy Tanenbaum, and the MLSE board of directors for your support, for the opportunity to lead this team and for welcoming us into your family. This is a first-rate organization from top to bottom. Toronto is lucky to have one of the best ownership groups in the NBA.
Thank you to the many players and coaches that have proudly represented the Toronto Raptors during my tenure. Thank you for your hard work, dedication, and commitment to excellence. Thank you for enduring my southern sayings, awkwardly placed hats and most importantly for always having your shoes tied and shirttails tucked in before the shootaround film starts.
Thank you to the front office, support staff, ACC staff and security for your dedication to strive to be the best, and for the kindness that you showed us for every day of our time here.
Coaches know that this is an industry built on change, and we willingly accept that reality. They say that "Home is not a place … it's a feeling;" so thank you Toronto for making us feel at home here. Thank you for supporting our family, for offering us your friendship and for teaching us the Canadian way.
Farewell,
Dwane, Brenda, Justine & Zachary Casey
Click here to read the official article: Dwane Casey to Toronto: Thank you