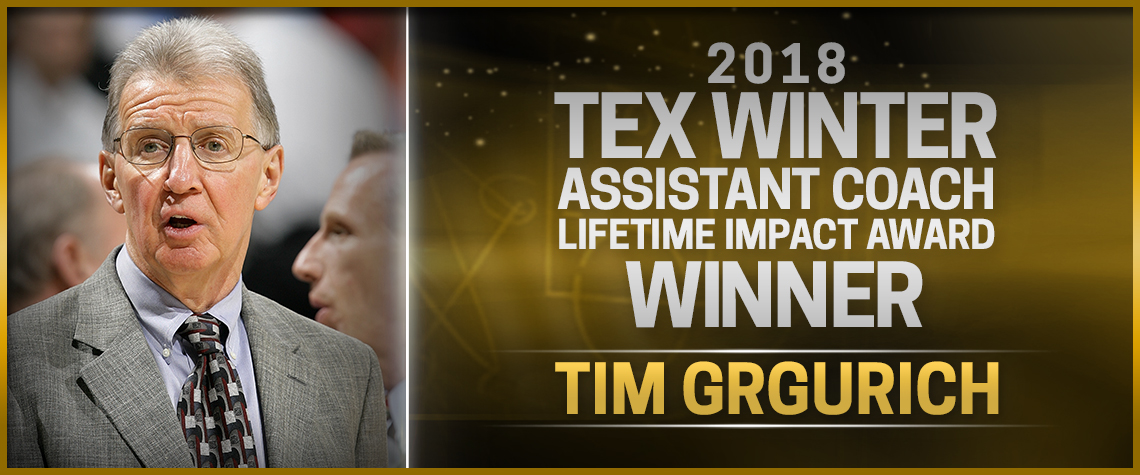 Las Vegas, July 10, 2018—Tim Grgurich, a basketball lifer who is widely credited with being at the forefront of player development in the NBA, is the 2018 Tex Winter Assistant Coach Lifetime Impact Award winner, the National Basketball Coaches Association (NBCA) announced today.
"Simply put, Tim Grgurich is the godfather of modern player development," said Dallas Mavericks Head Coach and National Basketball Coaches Association President Rick Carlisle. "Not since the great Pete Newell has there been anyone who has impacted modern NBA teaching techniques and procedures the way our beloved 'Grg' has. He has positively impacted the lives and careers of hundreds of NBA players and coaches since joining the NBA with the Seattle Supersonics in the early 90s. Congrats to Coach Grg on this prestigious and well-deserved recognition."
"I am humbled by this recognition. I always felt Tex Winter was the gold standard for all coaches," said Grgurich. "I am pleased to accept this award in honor of his great legacy."
Grgurich, who has spent 49 of his 54 years in coaching as an Assistant Coach, earned the widespread respect of thousands of players and countless coaches for his knowledge of the game, his coaching acumen, his passionate work ethic, and his enthusiastic dedication.
Grgurich began his NBA career as an Assistant Coach with the Seattle SuperSonics in 1991, where he improved the team's defense. Coach Grgurich helped guide the SuperSonics to two Western Conference Finals and a trip to the NBA Finals in 1996. He was an Assistant Coach with the 2010-11 NBA Champion Dallas Mavericks and went to the Western Conference Finals with the Portland Trail Blazers twice and the Denver Nuggets. Over the course of his highly successful NBA coaching career, his teams reached the playoffs 23 times, winning 7 Division Championships.
For the last 20 plus years, Grgurich has also run a free, highly regarded off-season player development camp in Las Vegas, primarily for rookies and second year players, but also open to veterans and coaches.
Prior to entering the NBA, Grgurich was as Assistant Coach at UNLV for 11 seasons, winning the NCAA Championship in 1990 and returning to the championship game in 1991. He began his coaching career at Pitt, his alma mater, in 1964, serving six seasons as Assistant Coach and Head of Recruiting, and five as Head Coach.
Grgurich was inducted into the Pittsburgh Basketball Club Hall of Fame as a Coach in 2013
"The Tex Winter Assistant Coach Lifetime Impact Award is presented each year to an Assistant Coach who exemplifies the same high level of integrity and excellence that Tex Winter displayed during his highly successful career," said National Basketball Coaches Association Executive Director David S. Fogel. "Assistant Coaches often operate behind the scenes and may not receive public recognition for their team's success. However, if you ask any Head Coach, they would say that their team could not operate without the hard work of these men and women. Coach Grgurich certainly exemplified these values on and off the court, and his tireless work ethic led to successful seasons in each of his coaching stops. Congratulations to Coach Grgurich, this honor is well deserved."
The National Basketball Coaches Association Tex Winter Lifetime Achievement Award honors the tremendous achievements and commitment of Hall of Famer Tex Winter, who over an outstanding NBA coaching career set a standard of integrity, competitive excellence, loyalty and tireless promotion of NBA basketball. This year's award recognizes the extraordinary contributions Tim Grgurich has made to the sport throughout his NBA career through building a body of work that has had a positive and powerful impact on the NBA coaching profession. Coach Grgurich embodies the high standards and leadership philosophies that Tex Winter brought to the game.
The National Basketball Coaches Association Tex Winter Lifetime Impact Award is selected annually by the Award Selection Committee, comprised of some of the most respected coaches and executives in the game, including Rick Adelman, Hubie Brown, Doug Collins, Wayne Embry, Danny Ferry, Mike Fratello, George Karl, Doc Rivers, Rod Thorn and Lenny Wilkens.
This year's nominees included Assistant Coaches Ron Adams, Jim Boylan, Hank Egan, Jim Eyen, Dick Helm, Brian Hill, Jim Lynam, Brendan Malone, Bob McAdoo, Brendan Suhr, and Bob Weiss.
Prior recipients are Ron Rothstein (2017) and Phil Johnson (2016).