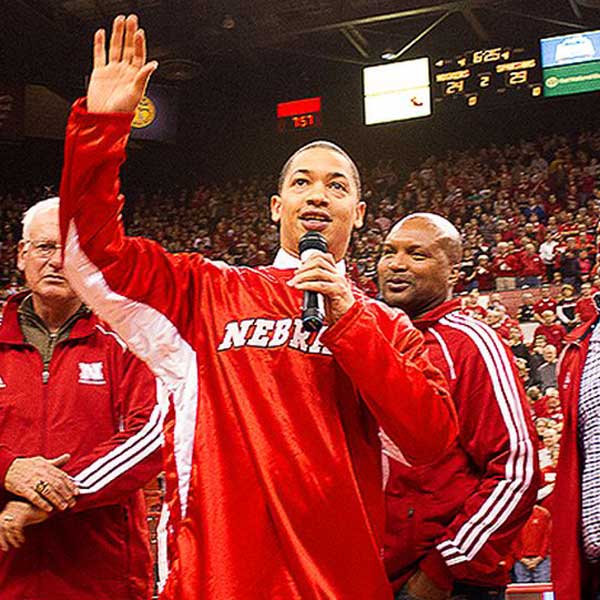 Cleveland Cavaliers head coach Tyronn Lue will be heading back to Nebraska Thursday night, being honored with a jersey retirement ceremony when the Huskers host Michigan State at Pinnacle Bank Arena.
"It's a great accomplishment," Lue said Wednesday night, prior to the Cavaliers' game against the Minnesota Timberwolves. "Leaving Mexico, Missouri then going to Kansas City where I played high school basketball, then going to Nebraska where I think I became a man, who I am today — leaving your family and going off to college by yourself."
Lue, already in the Nebraska Basketball Hall of Fame and the only player from the program to win an NBA championship as a player and coach, wasn't sure this day would come.
The university doesn't typically retire the jersey of a player who doesn't graduate from there. But Nebraska made an exception for Lue, who finished his studies online — just not through Nebraska.
"Shawn (Eichorst) our AD and (assistant AD) Marc (Boehm), they did a great job of forget the rules," Lue said. "I know people and the fans and a lot of media there said, 'He deserves it, we want to make it happen.' They said, 'Forget all the rules and the way it has been, we're going to do it.' After doing the Hall of Fame three years ago, now coming with the jersey retirement, it's just an honor and a great accomplishment and I'm very appreciative of it."
Lue, who played at Nebraska from 1995-1998 before opting to go to the NBA early, still ranks in the top 10 in career points, assists, steals and field goals made.
To read the full article, click here: Tyronn Lue to have number retired at Nebraska Thursday night: 'It's an honor and great accomplishment'