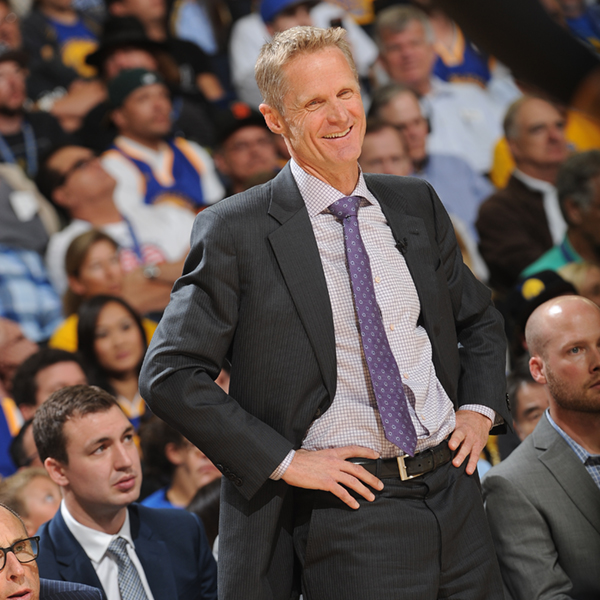 NEW YORK – The Golden State Warriors' Steve Kerr, whose team won an NBA-record 73 games, is the recipient of the Red Auerbach Trophy as the 2015-16 NBA Coach of the Year, the NBA announced today.  He becomes the Warriors' first winner since Don Nelson in the 1991-92 season.
Kerr, in his second season as Golden State head coach, received 64 first-place votes and 381 total points from a panel of 130 sportswriters and broadcasters throughout the United States and Canada.  The Portland Trail Blazers' Terry Stotts, who guided his team to the playoffs with four new starters, finished second with 37 first-place votes and 335 total points.  Three-time winner Gregg Popovich of the San Antonio Spurs was third with 10 first-place votes and 166 total points.  Coaches were awarded five points for each first-place vote, three points for each second-place vote and one point for each third-place vote.
Under Kerr and assistant coach Luke Walton, who served as interim head coach until Kerr returned from back-surgery complications in January, the Warriors (73-9) posted the best regular-season record in league history, eclipsing the 1995-96 Chicago Bulls (72-10).  The defending NBA champions opened the season 24-0, the best start in league history, which pushed their overall regular-season winning streak to 28 games, the second longest of all time.
The Warriors set NBA records for single-season road victories (34) and consecutive home regular-season wins (54, including 18 victories to finish last season), and went 39-2 at Oracle Arena for the second season in a row.  Golden State also became the first team to go through a season without losing two games in a row or losing to the same team twice.
Read the full story via: Warriors' Kerr Named 2015-16 NBA Coach of the Year