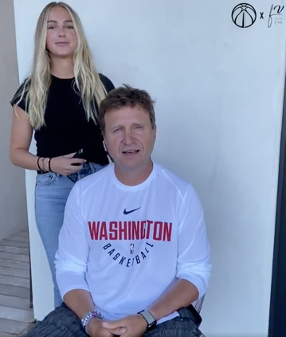 Great work by Washington Wizards Head Coach Scott Brooks for announcing the "Brooks' Looks" charity challenge, presented by Fresh Vine Wine.
Coach Brooks will allow his daughter, Lexi, to cut his hair if donations to the MSE Foundation's "Feeding the Frontlines" fund reach $25,000.
All donations will go directly to helping feed the frontline workers protecting the D.C. community. A donation of $100 will fund between 10-12 fresh, healthy meals for first responders and health care staff. Fans are encouraged to use #BrooksLooksChallenge on social media when making their donations.
The "Feeding the Frontlines" fund provides meals to first responders and health care workers at D.C. area hospitals and COVID-19 testing sites. What began as an initial effort from the Wizards is now funded through donations from all teams – Capitals, Mystics, Capital City Go-Go and District Gaming – with players, coaches, owners, MSE staff and fans contributing a combined $150,000 and funding more than 6,000 meals to seven District hospitals and testing sites thus far. That effort has also helped support small businesses as well as a vital nonprofit for the food insecure within the District, DC Central Kitchen.
For more information: https://twitter.com/WashWizards/status/1257701682156363777
Donate: https://monumentalsports.formstack.com/forms/brookslookscharity