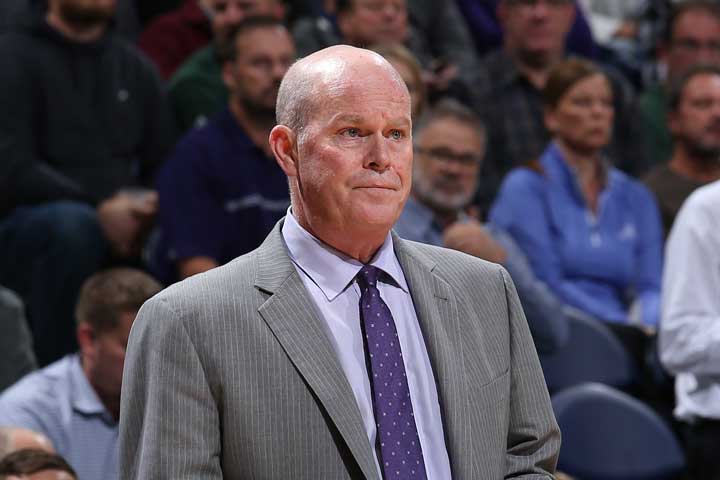 via Adrian Wojnarowski, ESPN
Two years ago, Charlotte Hornets coach Steve Clifford turned to the team's medical staff, searching for something to dull his periodic headaches. They gave him medication to manage the pain, and Clifford marched the franchise into the 2016 playoffs. Time passed, but the headaches only worsened. Doctors ran him through a battery of exams during the 2017 All-Star break, and Clifford kept going.
That's all he knew, all he has ever done. That's how a kid who grew up in the far reaches of Maine, played Division III ball and started as a high school coach gets to become a respected NBA coach — outworking everyone, outsizing the opportunities of his lifetime.
Eventually this season, Clifford was struggling to sleep at all. The pain had become prodigious. All the angst over the winning and losing, all the hours watching video, all those 3 a.m. hotel arrivals off back-to-back games, and finally, Clifford sat inside his practice-facility office on an early December game-day morning and the truth washed over him: I can't live this way anymore.
Four years ago, in November 2013, Clifford had two stents inserted into his heart and coached three nights later against the Atlanta Hawks. After that, there was a road game in Boston. Charlotte's team physician, Joseph Garcia, suggested that Clifford sit out the charter flight to New England.
"But there was no way I wasn't going on that trip," Clifford told ESPN by phone on Friday morning. "But this issue now, the headaches, was not even close to the heart. That week before I stepped away, and that morning in the office, it scared me. It was much more significant than the heart was, and I've never had anything physically that concerned me as much as this did.
"The doctors, all of us, agreed that there was no way I was in a place where I could coach. Whatever I needed to do, I needed to feel better."
Clifford is 56 years old, in his fifth season as Charlotte's head coach, and he had to come to understand what his body had finally told him: No more. Clifford wasn't the 20-something driving back to New Hampshire all night from a recruiting trip to Jersey, or the 30-something Division II college head coach in New York, or the 40-something assistant on Jeff and Stan Van Gundy's staffs in New York and Orlando.
How Clifford had always lived and grinded on the job — a bachelor with no kids living out of a Spartan condo near the office — offered him an around-the-clock dedication to his craft. In many ways, though, Clifford had tilted the imbalances too far. He had to change — or risk losing everything.
To continue reading, click here: 'I could not live this way': What Steve Clifford had to change to keep coaching