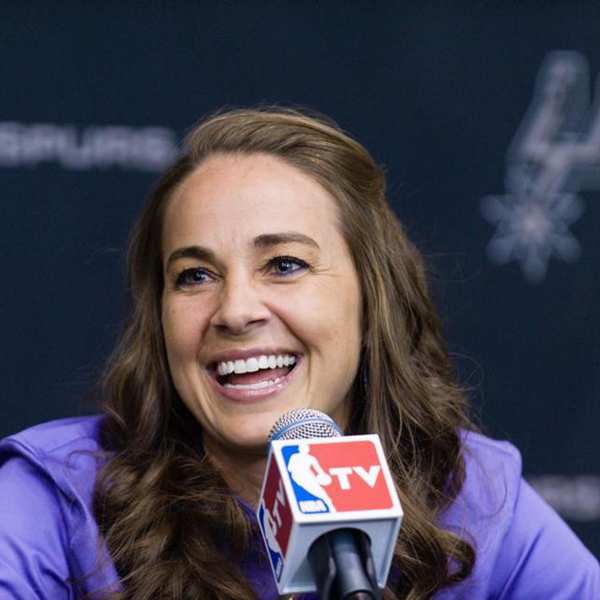 Becky Hammon is the first full-time, paid female assistant on an NBA coaching staff.
It was invitation-only.
In late September, when the NBA held its annual coaches/general managers clinic in Chicago, organizers limited the number of attendees to 90. Commissioner Adam Silver opened the weekend event with an address on the state of the league. Larry Bird and Kevin McHale discussed the game's transformation over the past 30 years. Other seminars covered analytics, officiating, injury prevention, and player development.
But the audience that listened to Silver, Bird, McHale, and others best captured the state of the NBA in 2014 and its transformation. For the first time, multiple women were invited to the clinic.
"The NBA dream is becoming blind to gender," said Dallas Mavericks coach Rick Carlisle as he introduced Silver. "Women are becoming a real factor in hiring."
Then, Carlisle welcomed the four women present by name. Hall of Fame inductee Nancy Lieberman. Seattle Storm associate head coach Jenny Boucek. Los Angeles Clippers assistant video coordinator Natalie Nakase. Los Angeles Sparks guard Lindsey Harding. The women aspire to NBA coaching positions. And with its crowd of NBA coaches, team executives, and league leaders, the clinic offered networking and educational opportunities, the kind of all-access pass women rarely receive in men's sports.
Forget shattering glass ceilings. Most women face closed doors not only when they want a coaching job at the highest levels of men's sports, but also when they want to break in at the lowest levels of team operations. It's about more than naming them assistant coaches. It's about men's teams welcoming women from diverse sports backgrounds, viewing them as assets, and letting them rise through the ranks the way male candidates do.
Not every aspiring female NBA coach boasts the same credentials and enjoys the same entrée into the league as Becky Hammon — 16-year WNBA playing career, seven All-Star nods, and a season spent learning from Gregg Popovich and the Spurs' staff while coming back from injury. So, while the Spurs hiring Hammon as the first full-time, paid female NBA assistant coach made history in August, invitations to the coaches/general managers clinic may prove more meaningful in the long run.
For the NBA coaching ranks to grow beyond one female assistant, women need to learn the NBA game from those who know it best and build relationships with people who can hire them. Like men intent on NBA coaching careers, women need chances to create those connections whether they excelled professionally or played intramural in college. While Hammon's job with the defending champion Spurs makes a statement, the first woman who rises from video coordinator to head coach will say more about the NBA's acceptance of women coaching.
Maybe that woman will be Nakase. Or maybe it will be another who earns an invitation to future clinics.
"When you have people like Adam Silver, Rick Carlisle, Gregg Popovich, and Doc Rivers advocating for you, that's powerful because that's coming from within," said Lieberman, who continued a career of breaking gender barriers when she became the first female head coach of a men's professional basketball team and led the D-League's Texas Legends to a playoff berth during their inaugural season in 2010-11.
Lieberman, who was the only woman invited to the clinic in previous years, added, "When you're in the room and you're talking about the game, now you're one of them. That's what we want. We're not hiding the fact that we're women, but we're qualified . . . To see other women in the room, it says they're not the flavor of the month. They're getting this opportunity because they put in the time."
Boucek starred at the University of Virginia, played professionally for two seasons, then embarked on a coaching career. For the past 15 years, she has crisscrossed the country as a head coach, associate head coach, and assistant coach with different WNBA franchises. Last week, she traveled to Dallas to spend training camp with fellow Virginia Cavalier Carlisle and the Mavericks. Boucek follows in the footsteps of McHale, Nate McMillan, and Vinny Del Negro who have visited past Mavericks training camps and learned from Carlisle, who also serves as president of the NBA Coaches Association.
Like the clinic, extended time with NBA teams is critical for qualified women who seek spots on coaching staffs. It gives women a chance to learn more about the league. And it helps current NBA coaches become more familiar and comfortable with potential female assistants.
via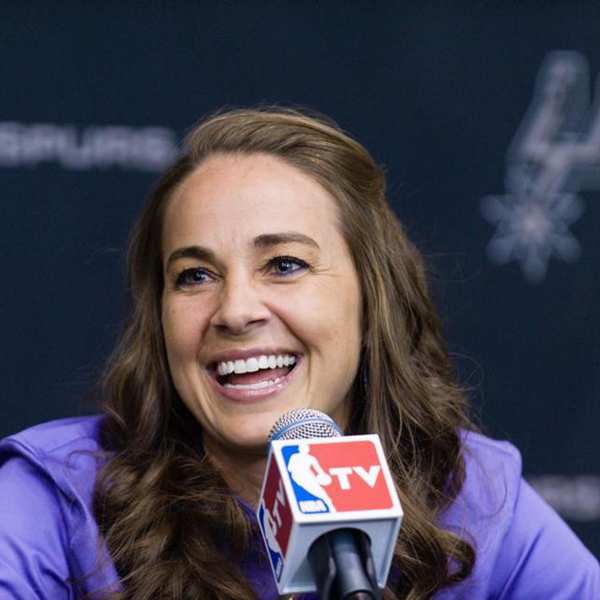 Men often benefit from an extensive network of connections that sometimes stretches back to their high school or college playing days. It's no secret that head coaches and assistants get recycled in men's professional and college sports, losing a job in one place then finding employment in another. When it comes to job openings, coaching fraternities favor known quantities.
"Change is not easy for people," said Boucek. "Some people perceive there to be some risk to it. I think there's risk to anybody you hire, regardless of gender. That's why you do your homework and you get to know people and get to know how qualified they are and what their personality is and how they work with staff members and what they have to offer players."
Attending the commissioner's reception during last February's All-Star Weekend festivities in New Orleans, WNBA player Harding introduced herself to as many people as she could. She talked to Silver and others about becoming an NBA coach. The reception led to more NBA contacts and the clinic invite. She left the clinic with copious notes and invitations to observe five NBA training camps. This weekend, Harding spent time with the Toronto Raptors, and she may visit other training camps before she leaves to play in Turkey.
"I don't want to finish playing and say, 'What do I want to do now?' " said Harding. "I want to stop playing because I have an opportunity. And when it comes to the NBA, you never know when there will be an opportunity. I want to be prepared."
After all, invitations are nice but job offers are better. Let's see where the NBA goes from here and who else follows.